Mental Illness and the Holiday Blues
Paul Jo, Staff Editor
December 20, 2019
With the holiday season upon us, it is good to be aware that not everyone likes or enjoys the holidays. Whether it's due to religious beliefs, loneliness, high stress, seasonal depression, or mental illness, it can be a hard time for a lot of us. High expectations, loneliness, and stress can lead to the "Holiday Blues" during the season between Thanksgiving and New Year's.
In most cases, symptoms are temporary. However, they can be serious if they last for more than two weeks. Feeling anxious, hopeless and depressed for more than two weeks could possibly be a sign of clinical anxiety and/or depression. 64% of people with mental illness report holidays make their conditions worse according to a survey done by the National Alliance on Mental Illness (NAMI). Approximately 755 of overall respondents reported that the holidays contribute to feeling sad or dissatisfied and 68% financially strained. 66% have experienced have loneliness, 63% too much pressure and 57% unrealistic expectations.
55% found themselves remembering happier times in the past contrasting with the present, while 50% were unable to be with loved ones.
It is unfortunate if you are someone affected by holiday blues, but there are things we can do to combat it. Here are some tips that you can use to feel less down during the holidays.
1. Take care of yourself first before making yourself available to others. During the holidays, as we're hosting, shopping, cooking, cleaning, attending get-togethers and checking off other tasks on our to-do lists, self-care often takes a backseat so keep yourself first.
2. Avoid feeling guilty. We don't want to hurt anyone's feelings. So we put pressure on ourselves along with a hefty side of stress-inducing guilt.
3. Connect with your support system. If you're not in the holiday mood, consider spending time with a friend or calling a person who cares about you. Connecting with just one person can make you 10 times less likely to get depressed. So stay connected to someone.
4. Plan a strategic retreat. Your strategic retreat may be anything from walking the dog to getting tea at a café to listening to soothing music to having a good cry. Then decide whether the healthier choice is to return to the get-together or go home.
5. Avoid drinking alcohol because it is a depressant. Alcohol can interfere with medication and exacerbate symptoms of loneliness and depression. It also can affect decision making, which could lead to family arguments or altercations that you may have decided against if you were sober.
6. If you are going to therapy, stick with it even when it gets hard.  The holidays can bring up difficult emotions for anyone. If you can, keep your scheduled therapy sessions to ensure you have built-in time to explore any feelings that may come up.
7. Try volunteering and giving back. Volunteering can be a great source of comfort.  Simply knowing that you're making a small difference in the lives of people who are not as fortunate as you can raise your spirits. This is a great strategy if you feel lonely or isolated from others; working toward one goal with others can help you feel less depressed and more connected. Volunteering can also give you a new perspective by taking you out of your comfort zone.
8. Creating new memories. If the holidays were previously a special time in the past and you try to recreate a time long gone, you are setting yourself up for sadness. Have some fun by creating new ones.
9. Don't forget to take your medications. Don't get so caught up in holiday celebrations that you forget to take your medication. Without it, you may be headed for disaster. Ask a friend or family member to remind you when it's time to take your medication.
10. Avoid over-scheduling yourself. There are always so many events to attend, but I pick and choose a few and forgo the rest. Sometimes it's necessary to avoid certain places or people. Personally, if I know I'll be overbooked or in an uncomfortable situation, I politely decline the invitation.
Hopefully, this helps some of you guys. If it gets unmanageable, remember that you are not alone and that there are support systems in place for your benefit. You can visit Grassroots Crisis Intervention's Website, MD Crisis Chat, visit 211MD.org, or call the 24-Hour Crisis Hotline 410.531.6677 and text your zip code to 898-211 to get Maryland's Helpline which is available 24/7 to provide support, guidance, and assistance.
Hang on for a minute...we're trying to find some more stories you might like.
About the Writer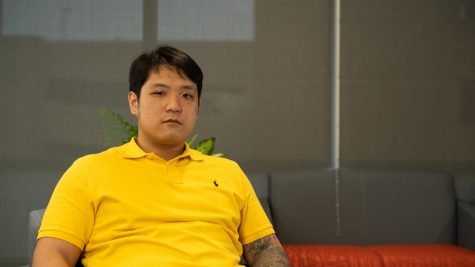 Paul Jo, Staff Editor
Paul is Korean-American and has lived in the Howard County area for about half of his life. He is originally from Tennessee where diversity wasn't common....