Twilight: 1992
Looking Inward and Onward
March 19, 2019
Instigated by the April 29, 1992, acquittal of four white LAPD officers on trial for their role in the filmed beating of African-American Rodney Glen King, three days of riots brutalized Los Angeles, killing sixty, injuring over two thousand, and leading to seven thousand arrests. In the aftermath, playwright Anna Deavere Smith recorded hundreds of interviews, capturing intimate perspectives on the violence done to people, property, and the American psyche.
Smith's "Twilight: Los Angeles, 1992" is a stellar example of documentary theatre, consisting entirely of verbatim excerpts from her interviews. For REPstage's production, directed by Paige Hernandez, actress Danielle Drake plays all twenty-five characters with aplomb, adopting disparate voices with practiced ease. In effect, it is less that Drakes assumes the role of each character, but that each character enters momentarily into Drakes' body, speaking through her mouth, claiming her movements, and borrowing her tears to recount true stories of violence, racism, and pervasive injustice.
The Rodney King beating was far from an isolated incident. LAPD officers were known to harass and assault black men, often assuming they were members of the Bloods or the Crips. At times they released gang members in rival territory – a blatant attempt to incite violence and foment discord in the black community. Operation Hammer, instituted by LAPD Chief Daryl Gates in 1987, encouraged police violence against black men, initiating senseless actions such as a Dalton Avenue raid that led to zero arrests – yet left at least twenty-two people homeless. Throughout the '90s, the Community Resources Against Street Hoodlums anti-gang unit perpetrated a corruption scandal involving drug-dealing cops, false testimony, and framing innocents.
Rodney King's violent beating was not the exception – it was the expected. The fact that the beating was videotaped was a source of hope that finally, finally justice would be served, that the power imbalance between black citizens and white cops might in this one instance be redressed. But it was not to be. The April 29 announcement of the acquittals set match to a city ready to blow.
Three days of chaos began with a riot on Normandie Avenue which included another filmed beating – that of Reginald Denny, a white truck driver, by four black men who became notoriously known as the 'L.A.Four'. Monologues from Denny and one of his assailants, Keith Watson, are included in the play; Drakes said in the post-show discussion that theirs were the two most difficult roles to play.
As hundreds of buildings burned in a city already known for its smog, a pall of smoke shrouded the dead and wounded. Damage estimates swelled hourly; the tally of victims mounted. As thousands of National Guard troops poured into the city, the violence finally abated on May 1st, when Rodney King spoke publicly, shaken and pleading for peace: "Can we all just get along? … Can we stop making it horrible? … It's not right. It's just not right."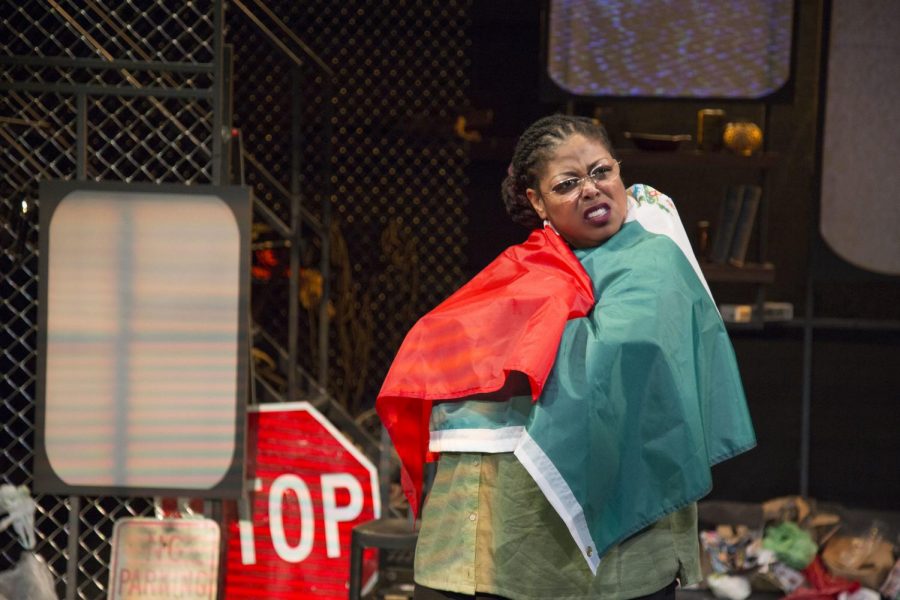 Smith's drama sifts adroitly through the carnage, revealing the complex currents of strife, injustice, anger, and confusion roiling the city. The voices of Rodney King's aunt Angela King, LAPD Chief Daryl Gates, King assailant Ted Briseno, eyewitness Josie Morales (who was never called to testify), pregnant Panamanian bystander Elvira Evers (shot in the abdomen by a stray bullet), and the family of Korean gunfire victim Walter Park blend together in a cacophony representative of the fulminant welter of the L.A. Riots – one of the most destructive civil uprisings in United States history. Individually, each voice demands recognition, reminding us of the very humanness that is easily lost and overlooked in times of violence and dissent; heard in sequence, they weave a grim tapestry of contextualized rage and disconcert.
Smith's play ends ambiguously with a monologue from Twilight Bey, a key figure in negotiating the Watts Gang Truce between the Bloods and the Crips on April 28, 1992 – the day before the riots – the culmination of four years of discussions between the rival gangs.
"I don't affiliate darkness with anything negative," he says. "I see the darkness as myself, I see the light as knowledge and the wisdom of the world and understanding others… So twilight is that time between day and night. Limbo. I call it limbo." Indeed, Twilight Bey, and all of Los Angeles, was caught in limbo – a place between eras, between races, between misunderstanding and understanding.
Attempting to justify the King beating, defense witness Sergeant Charles Duke says, "We lost upper body control holds, because we had something like seventeen to twenty deaths… it was being used on blacks, and blacks were dying… so the political framework was laid, for eliminating upper body control holds… And [my commander's] response to me 'Sergeant Duke… we're gonna beat people into submission.'"
One violence is replaced with another. And now? It seems chokings and beatings have been replaced with killings. Rodney King has been succeeded by Freddie Gray, by Trayvon Martin, by Philando Castile, by so many others. America – and the world – today remains haunted by the bloody specter of racism.
Sergeant Duke's argument hardly justifies the force used against Rodney King, but it does illustrate that accountability influences policy. And policy matters – note the shared etymology of policy and police. Mapped by the Police Use of Force Project, banning chokeholds and strangleholds is associated with a 22% lower rate in police killings per capita. Requiring comprehensive incident reporting and requiring officers to exhaust all other means before shooting are each associated with a 25% lower rate.
Still, police kill Native Americans and Black Americans at more than twice the rate they kill Whites. A litany of reviews and studies from the last two decades suggest why – white officers have significant implicit and unconscious biases against minorities, a theory known as Racially Biased Policing. In short – 27 years after the L.A. Riots, institutional racism remains pervasive. The edifice of prejudice looms as large as ever. But that shouldn't surprise anyone. We live in the perpetual twilight of its shadow.