NCAA March Madness Analysis
March 21, 2023
It is March, and to College Basketball fans across the country that means the tournament is here, and a month of "March Madness" is in store. The NCAA Tournament, a.k.a. March Madness, is the men's basketball single-elimination tournament played every spring across the country.
The reason why it is called "March Madness" is for the pure unpredictability that this tournament has, and any underdog on any given day can cause a big upset against the big teams. For example, the 16-seed University of Maryland-Baltimore County upset win over Virginia (number 1 seed) in 2018 is unforgettable.
The tournament was first started in 1939 by the National Association of Basketball Coaches. The idea originated from Harold Olsen, who was Ohio State University's head coach of the men's basketball team at that time. The tournament's first winner was the Oregon Webfoots, who are currently known as the Ducks.
The NCAA tournament format was expanded from only eight schools to sixteen by the '50s. The expansion continued in the next fifty years to sixty-five in the 2000s and reached its current format of sixty-eight teams in the early 2010s.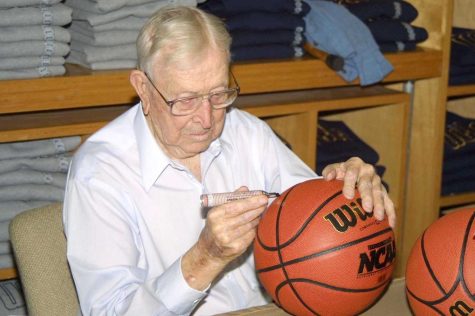 The most NCAA National Championships (11), so far has been won by the University of California-Los Angeles, with the legendary head coach John Wooden winning 10 of 11 of those National Championships.
There has only been one undefeated champion that has won the tournament thus far. The 1976 Indiana Hoosiers were undefeated (32-0) throughout the year and went on to win the National Championships that year. The Hoosiers of that season were led by the former NBA player Quinn Buckner and coached by another legend of college basketball Bob Knight.
The tournament has also featured some legendary NBA players such as Magic Johnson (Michigan State), Larry Bird (Indiana State), Michael Jordan (North Carolina), James Worthy (North Carolina), Patrick Ewing (Georgetown), Hakeem Olajuwon (Houston), Clyde Drexler (Houston), Dwayne Wade (Marquette), Carmelo Anthony (Syracuse), Steph Curry (Davidson) and Anthony Davis (Kentucky), among others.
There have also been well-known coaches for this tournament who are in the Naismith Basketball hall of fame such as John Wooden, Bob Knight, John Thompson, Dean Smith, Jim Calhoun, Mike Krzyzewski, Jim Boeheim, Jay Wright, Roy Williams, Gary Williams, John Calipari, Rick Pitino and Tom Izzo.
Every year, college basketball fans anxiously await the announcement of the field of 68 college teams playing during the tournament. On March 12, 2023, the selection committee came up with the seedlings and matchups for this year's tournament. The four number one seeded teams were Alabama (South Region), Houston (Midwest Region), Kansas (West Region) and Purdue (East Region).
Here is a breakdown of each of the four regions:
South Region
Contenders:
Alabama (29-5)
When you think of Alabama, you likely think of a powerhouse football program led by the great head coach Nick Saban. However, in recent years, the Crimson Tide have also established themselves as a men's basketball program to be reckoned with. They have won the Southeastern Conference (SEC) Championship Tournament twice in the last two years (2021 and 2023) and made it to the Sweet Sixteen two years ago.
The Crimson Tide have a lot of talent in their program but also face criticism. Freshman Brandon Miller, who is considered the nation's best freshman with an average of 19.6 points per game, has faced controversy. In mid-January, an incident in Tuscaloosa led to Miller getting a gun, allegedly at the suggestion of former basketball teammate Darius Miller. This led to the shooting of 23-year-old Jamea Jones Harris.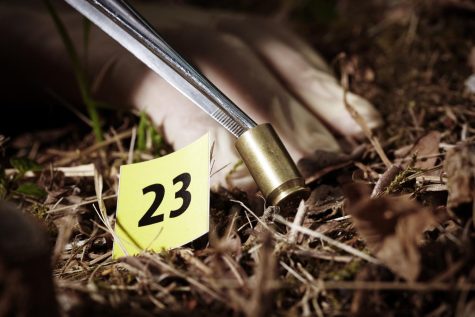 Miller has not been charged with these allegations due to Alabama state law that deals with the crime and behavior of another, and intent is a key factor in whether a person can be charged with criminal conspiracy. Miller's attorney described the incident as a verbal altercation between Miller and Harris, after which Miles texted Miller to come pick him up and bring the firearm. The controversy surrounding Miller's involvement has raised questions about whether he should continue to play.
As the Crimson Tide prepares for the NCAA Tournament, they have a number 1 seed, their highest ever seeding line. The team averages more than 20 3-pointers per game but only makes 34% of them. Along with Miller, freshman Noah Clowney, who averages 10.1 points per game, and upperclassmen guards Jahvon Quinerly, who averages 8.1 points per game, and Mark Sears, who averages 12.5 points per game, make for a talented set that could potentially make a run to the Final Four.
Arizona (28-6)
Arizona, coming off a Pac-12 Tournament championship on Saturday night, plays unconventional basketball. Head coach Tommy Lloyd tosses two bigs out there and has them gallop up and down the floor for 40 minutes. Juniors Oumar Ballo, who averages 14.2 points and is a dominant interior presence, and Azuolas Tubelis, who averages 9.8 points per game and has been named Second Team All-American this season, lead the team. Sophomore Courtney Ramey, who averages 10.6 points per game, hit the 3-pointer that helped lift Arizona over UCLA in the Pac-12 Tournament title game. Junior Pelle Larsson, who averages 10.2 points per game, is one of the team's best role players on a title contender. Junior Kerr Kriisa, who averages 10.1 points per game, is also among the top trash talkers in college hoops. This team has the potential to make it to the Final Four.
Potential Flops:
Baylor (22-10)
They say defense wins championships while offense sells tickets, and this was certainly the case for the national championship from two years ago.
That is not this crew, which has the second-ranked per-possession offense in college basketball, but is allowing opponents 70.3 points per night and giving up 101.9 points per 100 possessions, according to KenPom.
Baylor enters the NCAAs as losers of four of its past six, but it remains a second-weekend threat due to a trio of guards that can light up the scoreboard.
Freshman Keyonte George is the future NBA lottery pick that leads the Bears with 15.3 points per game, senior Adam Flagler is right behind, at 15.5 points per game, and L.J. Cryer is good for 14.5 points per game.
There is not another team with three guards more potent in scoring than Baylor. The team struggles with defensive rebounding and sacrifices interior presence at times, using its energy to run a variety of sets that keep teams on their heels defensively.
Virginia (25-7)
The Cavaliers' dud of an ACC tournament championship game against Duke is going to have people fading UVA in the first weekend. This is not a great Virginia team. It is good, though, and head coach Tony Bennett remains among the best generals in the sport.
The Cavaliers are a tough matchup and do not turn the ball over, which should allow them to be in every game they play. If it is an off night offensively, then it gets even uglier.
That said, fifth-year senior Kihei Clark who averages 10.9 points per game is still the running point for this team as he helped Virginia win a national title in 2019.
Junior Reece Beekman who averages 9.4 points per game also has a future in the NBA, because he is on the short list of best defenders in college basketball. Virginia is just 4-3 over its last seven games entering the Big Dance. It should be interesting to see how Virginia shows up in its first round.
Underdogs:
Charleston (31-3)
If there is a Cinderella team that comes out of this region it would be Charleston. Winners of the Colonial Conference Tournament and Regular Season title, head coach Pat Kelsey's team has a deep roster, and his go-to guys such as senior Dalton Bolton who averages 12.3 points per game, sophomore Ante Brzovic who averages 11.1 points per game and Ben Burham who averages 9.1 points per game.
Not only that, the Cougars launch a lot of 3-pointers and are one of the strongest rebounding teams in this field. They look to be an exciting out and a potential outlook for a Sweet Sixteen run.
The final four or national championship is considered by many to be one of the great events in all of sports, and this year, the final four will be held in Houston, Texas in the NRG Stadium the weekend of April 1-3.
Midwest Region
Contenders:
Houston (31-3)
Houston is a program that is back to relevance not seen since the early '80s and the days of Olajuwon and Drexler, when the team made three straight Final Fours (1982, 1983 and 1984).
This current Houston team is replicating the success that Houston team had with head coach Kelvin Sampson leading the program to a Final Four (2021) and an Elite Eight appearance (2022).
The Cougars have comfortably rated as the best team in advanced metrics for two-plus months. Sampson's team normally plays a more defensive game, and they are second in the country in scoring defense.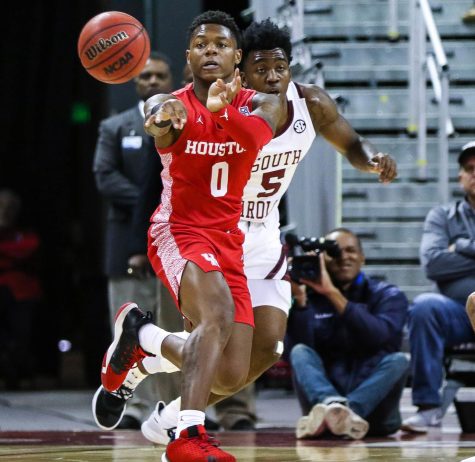 The Cougars are led by senior Marcus Sasser who averages 17.1 points per game.
Sasser was out during this weekend's American Athletic Conference Tournament semifinal against Cincinnati due to a reportedly suffered groin injury, per CBS Sports College Basketball insider Jon Rothesin. The Cougars have not announced anything yet about when Sasser will return.
Other top players on the team include juniors JuWan Roberts who averages 10.4 and Jammal Shead who averages 10.3 points per game, as well as freshman Jarance Walker who averages 11.1 points per game.
With this year's final four being in H-Town, a hometown homecoming could happen this year, 40 years after Olajuwon and Drexler did the same thing. Houston overall has a bit of everything—size, speed, shooting, defense, experience, some youthful talent, elite coaching and discipline to go back home for the Final Four.
Texas (26-8)
The Longhorns are the narrow pick for me—at No. 5. Interim head coach Rodney Terry has done a very good job the past three months. Texas is rugged defensively and loaded up with guards and wings who can score from all three levels.
The two-factor dynamic that makes this team a Final Four contender: 1) Texas can push the pace, and 2) it has a lot of willing passers. On any given night, it could be seniors Marcus Carr who averages 15. 9 points per game, Dylan Disu who averages 8.3 points per game, Timmy Allen who averages 10.5 points per game, Sir Jabari Rice who averages 12.6 points per game or freshman Dillon Mitchell who averages 4.7 points per game that could do the most damage.
This tough team will not get bounced in the first round like the third-seeded group from two years ago. The recently crowned Big 12 Tournament champions have beaten Kansas twice in the past four games and have held opponents to 55.5 points in that span, making them a contender for the national championship.
Potential Flops:
Miami (25-7)
The Hurricanes surprised a lot of people by going from the No. 10-line to the Elite Eight a year ago. Winning three more in this year's bracket would not register as all that shocking—not when Miami has been logging impressive wins and beating tournament-caliber teams from early November through March.
The Hurricanes are led by junior Isaiah Wong who averages 16.2 points per game, and he is supplemented beautifully by senior Jordan Miller who averages 15.3 points per game and sophomore Nijel Pack who averages 13.2 points per game.
The question here is how big man Norchad Omier's injury will impact the team. Omier left with an ankle injury after Miami's semifinal loss to Duke in the ACC Tournament on Friday night. The Hurricanes will need him to fend off opponents this week and next.
Cinderella:
Drake (27-7)
No, it has nothing to do with the Canadian rapper—it is actually a college in Des Moines, Iowa. Like Charleston, the Bulldogs will be a trendy pick to win one, if not two, games and make it to the Sweet Sixteen.
That is because the Missouri Valley's top team has one of the best mid-major players in the country. Sophomore Tucker DeVries, who averages 19.0 points per game and shoots 38.7% from 3-point range, has the goods. DeVries is facilitated by senior point guard Roman Penn, who averages 12.6 points per game and will be ready and anxious for his NCAA Tournament debut. Penn was injured when Drake danced and made the tournament two years ago.
East Region
Contenders:
Purdue (29-5)
The Boilermakers just won the Big Ten Conference Tournament Championship on Sunday, which they had not won since 2009. Their main guy is the frontrunner for National Player of the Year: 7-foot-4 junior Zach Edey, who averages 22.3 points per game. But that is not the only thing head coach Matt Painter's team has going for itself.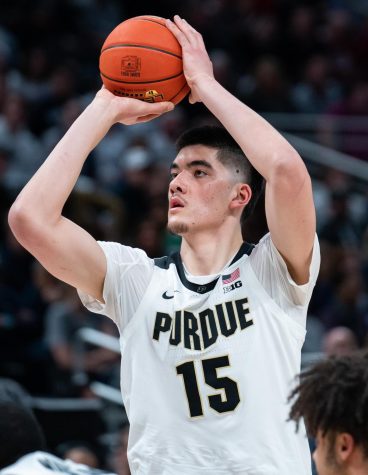 Far from it. Purdue has a pair of fearless freshman guards: Braden Smith, who averages 9.8 points per game, and Fletcher Loyer, who also averages 9.8 points per game, as well as multi-talented forwards on the flank: Mason Gillis, who averages 6.7 points per game; Caleb Furst, who averages 5.6 points per game; and Ethan Morton, who averages 3.9 points per game. They all can score in a variety of roles and do so all over the floor.
Over the years, Painter has had some terrific teams, but this group looks as ready as ever to take his team to their first Final Four in 43 years (1980).
Marquette (28-6)
Marquette's 28 wins are its most since 1970-71. Having wrapped up the Big East Championship title, head coach Shaka Smart has done wonders in two years after leaving Texas to revitalize MU basketball.
Sophomore Tyler Kolek, who averages 13.4 points per game, has the heart of a basketball killer and the hardware to prove it. Kolek is one of only 13 players in Big East history to win league Player of the Year and tournament Most Outstanding Player.
For the past four months, Marquette has ranked among the best offensive units. Sophomore Oso Ighodaro, who averages 11.4 points per game, is a matchup nightmare. Sophomore Kam Jones, who averages 15 points per game, has amazing two-way capability, and junior Olivier-Maxence Prosper, who averages 12.4 points per game, is a pogo-stick defender who will run players off the floor. Do not sleep on these guys; they are feisty and ready for the fight.
Duke (26-8)
Here come the Blue Devils. Duke is riding a nine-game winning streak after winning the Atlantic Coast Conference Championship Tournament on Saturday night.
After the retirement of legendary coach Mike Krzyzewski, who coached the program for 40 years, first-year head coach and former assistant and player for the Blue Devils, Jon Scheyer, has easily passed the test in his first season in charge, and now he is ready to coach on the biggest stage of all.
The Blue Devils have NBA-ready talent in junior point guard Jeremy Roach, who averages 13.4 points per game and has Final Four experience, and has the desire to dominate on the offensive glass. Other top players on the Blue Devils' roster include freshmen Kyle Filipowski, who averages 15.4 points per game, Tyrese Proctor, who averages 9.3 points per game, and Mark Mitchell, who averages 9.1 points per game.
It is unusual to see Duke in this position, outside the top three seed lines, without real Final Four pressure, in a house-money situation, basically. This team is undoubtedly playing its best basketball of the year, maintaining that winning mentality that is part of their DNA, and as always, will be a tough opponent for any team in this tournament.
Sleepers:
Michigan State (19-12)
The Spartans are dancing for the 25th year in a row, the second-longest streak out there right now, behind Kansas at 33. It wouldn't feel right to have a bracket without Sparty on one of the lines.
This team isn't a Final Four threat, but as long as Tom Izzo is coaching, no one is taking Michigan State lightly in March. Keep an eye on this: Izzo knows that his team's best chance to make some noise is to hit 3-pointers.
Michigan State is fourth nationally in 3-point percentage (39.5%), but it does not take a lot of triples. It is time to give seniors Tyson Walker, who averages 14.1 points per game, and Joey Hauser, who averages 14.2 points per game, as well as sophomore Jaden Akins, who averages 9.6 points per game, the green light, and then let senior Malik Hall, who averages 9.2 points per game, fill up the rest and hope for the best.
Underdogs:
Louisiana (26-7)
The Ragin' Cajuns are dancing for the first time in nine years. Coached by Bob Marlin, the Sun Belt champs have a variety of ways of getting the ball into the paint and making things work the old-style way from the mid-range. Junior Jordan Brown leads the team in scoring with 19.4 points per game, while seniors Greg Williams Jr. and Terrence Lewis contribute 13.1 and 11 points per game, respectively.
West Region
Kansas (27-7)
Almost a year after the Jayhawks were crowned national champions, all head coach Bill Self did was overcome losing nearly 70% of his production and put together the best team he has in arguably the best conference (Big 12) in the country, earning another No. 1 seed.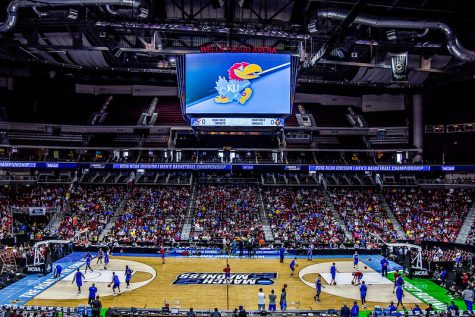 The Jayhawks have one of the five best players in college basketball in junior Jalen Wilson, who averages 20.1 points per game, and one of the five best freshmen in Gradey Dick, who averages 14.1.
KU also has an elite, old-school pass-first point guard in junior Dajuan Harris Jr., who averages 8.7 points per game and was a key factor in last year's title run.
The Jayhawks are not deep, but if senior Kevin McCullar continues to be a top-five defender in the sport while averaging 10.7 points per game, and sophomore KJ Adams rises as a small-ball big while averaging 10.4 points per game, this team has a great chance of going back-to-back (a feat that has not been accomplished in the NCAA Tournament since Florida in 2006-2007).
It is Kansas' 33rd straight NCAA Tournament appearance, a record. Self missed the Big 12 Tournament due to a medical procedure, but the school said he will be back on the sidelines this week. Self is arguably one of the greatest coaches in the game and his availability is the difference for the Jayhawks in their goal of going back-to-back.
University of California-Los Angeles (29-5)
The Bruins are not at full strength, so I have to dock them—even after a great push against Arizona in the Pac-12 title game. Junior Jaylen Clark's recent season-ending Achilles injury is a significant loss for UCLA, which probably would've won the Pac-12 Tournament if Clark had not been injured. That could have realistically put UCLA on the top line in the West. Despite this setback, it is still a great seed and a very good team. Adem Bona is dealing with a left shoulder issue that the school is saying will not keep him out to start the tournament. The Bruins made it from the First Four to the Final Four two years ago, and this group will not need to clear as many hurdles. This is the best team head coach Mick Cronin has ever had, with veteran leadership from seniors Tyger Campbell, Jaime Jaquez and David Singleton. UCLA is ranked eighth in the bracket, highlighting the depth of the top teams.
Gonzaga (28-5)
Just when we thought Gonzaga might be able to slip into the NCAA Tournament under the radar, that is not the case. This may not be a No. 1 seed like some recent Gonzaga teams, but according to BartTorvik.com data, it has been playing better than any other team in the country over the past six weeks. The Zags beat a good Saint Mary's team by a record-setting 26 points in the WCC title game. Gonzaga's 87.5 points per game rank No. 1 nationally, as does its offensive rating at KenPom (124.1) and 59.2 effective field goal percentage. The centerpiece to all this is, of course, senior power forward Drew Timme, who has saved his final season to be his best with 20.9 points per game. Under the leadership of head coach Mark Few, Gonzaga is well-positioned to make another run. It is the only school to make the past seven Sweet Sixteens.
Underdogs/Sleeper Teams:
Penn State (22-13)
Another "just a football school" is making noise heading into this tournament, as they made the championship game of the Big Ten Tournament. Senior lead guard Jalen Pickett, who averages 17.9 points per game, is a standout player. Pickett does a little bit of everything for one of the hotter teams entering this bracket. The Nittany Lions have a tricky task with Texas A&M on Thursday night at 9:55 p.m., but head coach Micah Shrewsberry has proven he is a fast-riser in the industry with how he has turned this program around in just two years. The Nittany Lions are top-10 in 3-point percentage and sacrifice offensive rebounds for defensive get-backs. Look out for the Nittany Lions in this tournament, as they are a dangerous team.
This concludes our comprehensive look at the teams that will be playing in March Madness. Enjoy the madness, everybody!