Howard Community College is Named "Great College to Work For" for the Ninth Consecutive Year
It has been said that students are the main ingredient for what makes a great institution. The campus lifestyle, the social activities, and the all-around college experience plays a major role in making the decision on which school to attend. Here at Howard Community College, not only do we pride ourselves off of being an institution driven off excellence, but we are now able to add another mark of achievement. For the ninth consecutive year, Howard Community College has been named "A Great College to Work For" by The Chronicle of Higher Education. The Chronicle's "A Great College to Work For" survey is the largest workplace study for higher education. As a national recognition program, this award is used to recognize colleges and universities who receive top ratings from employees on workplace practices and policies. The award recipients are judged on a two part assessment: a survey provided to the faculty, administrators, and staff, and an institutional audit that captures demographics and workplace policies from each institution.
Recognized in multiple categories, such as: Collaborative Governance, Confidence in Senior Leadership, Facilities, Workspace, Security, Professional/Career Development Programs, Respect and Appreciation, and Teaching environment, Howard Community College is now one of only three community colleges to be recognized in each year.
Dave Jordan, Associate Vice President of Human Resources, provided this statement on the achievement, "The national recognition for our school is fantastic. We've had applicants apply because they saw our results in The Chronicle. It's a great recruitment tool. It's also good to go through the process and see some of the positive efforts of other colleges that we can try to emulate". To add to this major accomplishment, Howard Community College also made the Honor Roll, which is an award given to the colleges and universities that received the greatest number of category citations when compared to other institutions of the same size. Honored by this prestigious award, our President Dr. Kathleen Hetherington, states "Receiving the Great Colleges to Work For award nine years in a row is a testament to the quality and dedication of HCC faculty and staff". This recognition is not only a testament to our faculty and staff, but it is also a reflection of our vision and values. We inspire each other with innovation, nurturing, sustainability, partnerships, integrity, respect, excellence, and service.
With our dedication and hard work, we continue to set the bar high. With the 2018 fall semester upon us, Howard Community College is ready to continue this excellent run. Good luck to you all and be sure to congratulate the faculty and staff for making Howard Community College a great place to work for.
Leave a Comment
About the Contributor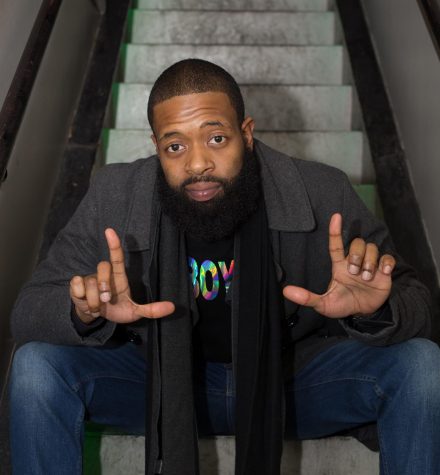 Darius Hammond, Writer
Who would have thought that a pair of eyes, a mind, and the ability to write would open a new world? Darius Hammond, a former writer for the HCC Times,...