Being a Student Leader
The month is May and I have now spent almost a year as the Student Program Board (SPB) Co Chair. This has been just one of the countless paths you can take at Howard Community College for a student leadership position. SGA, SPB, HCC Times, Dragon Leadership, Peer Leaders – all of them are possible avenues of growth for hopeful student leaders.
Why would anyone want to trouble themselves with the added roles and responsibilities of being a student leader? Though I cannot answer for all, I can answer for myself: I became a student leader for an added, but completely manageable, challenge. The idea of working on my time management skills, which often requires creativity on my end, and learning to balance the different aspects of life, was something I wanted to improve before moving on to a four-year instituton. Also, quite simply, I enjoy leadership positions. Opportunities to grow and better market myself in the "real world" have always been on my mind. The inner ambition, the desire to grow and improve, is commonly found in student leaders, and being around others with similar passions helps fuel your ambitious and fiery personality.
The connections and skills I have learned during my time as the Student Program Board Co Chair have arguably been the best training I have ever received. What I have learned over the past nine months has made me a better student, young professional, communicator and friend. I learned to be an advocate for myself and those that I represent.
As with all things, there is good and bad; being a student leader is no different.
Frankly, the good is immense. Opportunities snowball towards you. As a student leader, I was able to complete the Dragon Leadership Program with very little additional effort due to my position within SPB which checked off almost every requirement. I was able to meet congressional delegates during Advocacy Day in Annapolis, MD and talk about what students need from the government to help make Howard Community College even more accessible. I was able to work directly with the Associate Director of Student Life who enthusiastically accepted my request for a letter of recommendation. My professors knew of my involvement with Student Life and SPB and appreciated the work I put in. They gave me additional opportunities based on my academic performance and campus involvement. I was given the honor to introduce my professor in a professional setting and earn extra credit for the additional work I put in. I got to go on all-expense-paid conferences with SPB to Pennsylvania and New York. Friendships were created with fellow student leaders. This friendship allows us to motivate, advise and have fun together. We have gotten to discover more about ourselves, our personalities, our leadership styles, the strengths and weakness to our specific leadership personalities and are granted with countless opportunities to work on our communication skills. I have grown into a more tactical, strategic and confident young leader. With the good, there is bad. To say the life of a student leader is nothing less than perfect would be a lie. There will be times when the workload is too much. This struggle will foster new avenues for you to explore creative options in order to prioritize your time management. Then sometimes, the expectations others have of you begin to pile high. Take this as a chance for you to become not only an advocate for those that you represent, but an advocate for yourself. Personally, this has been the greatest and most challenging lesson.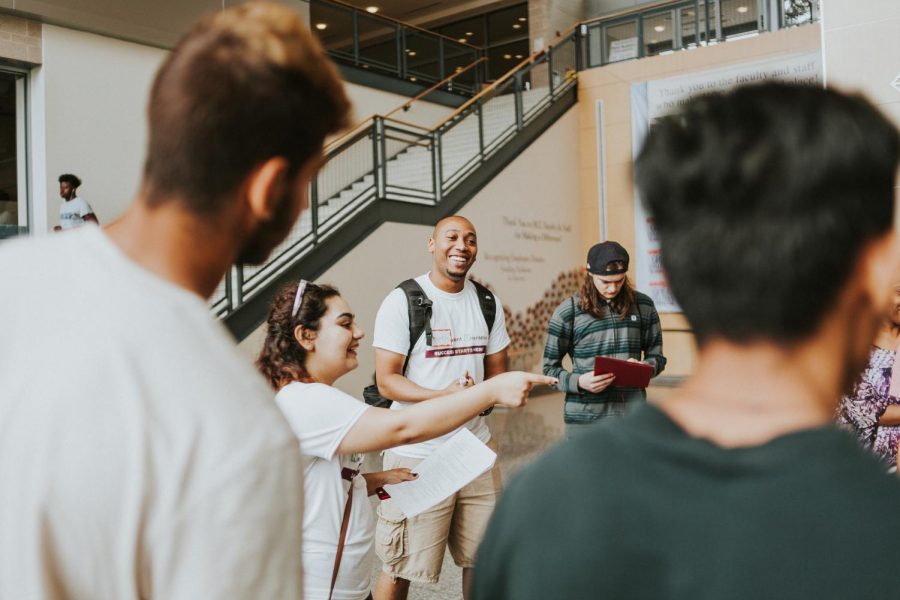 What I leave with you all today, after a year of being SPB Co-Chair, is that a student leader is not a perfect student that can magically balance everything. A student leader is an advocate. Someone who is in touch with their own emotional intelligence and welcomes open communication. They are someone who is committed – they will stay up at night studying and then come in to work at 8:30am in order to be prepared for their event. You are someone who acknowledges when they need an extension or when they need to delegate tasks. You are aware when you need a mental health day and most importantly you are aware of where you can improve.
And finally, what does it take to be a student leader?
You will be given countless resources, tools and individuals that will help you throughout your journey. All you need, walking through campus this August will be vision. As Theodore M. Hesburgh said, "The very essence of leadership is that you have vision,". With vision, devotion, forgiveness for the inevitable mistakes that is a part of the journey and a group of team members to learn from, you will find nothing but positivity in your role as a student leader.