The Grace in Growth at the 6th Annual Women of Color Tea
The sixth annual Women of Color tea was held on October 3rd, 2019 at 3:00PM. This event kicks off the "Power of Language" series here at HCC. The series will examine the visuals, messages and language that affects the lives of students of color. Though the day was humid and overcast, the mood in the room was overwhelmingly positive. Members of the community, students, staff and faculty all turned out to attend the tea.  Beginning in 2013, the Women of Color tea began as an event catering and focusing on the experience of women of color at Howard Community College. Ms Schnell Garrett, director of Student Life, opened the event thanking the Student Life and Counseling Career Services for spearheading the event. Dr. Kate Hetherington, president of HCC, spoke next, praising the annual tea as "a fellowship dedicated to the growth and celebration of women of color" and asked all attending to spread the word about services at HCC that will aide on students' pathways to success. 
Before the guest speaker began, a bingo activity took place. Participants were asked to find others in the room who filled the bingo squares on the sheet given. While most attending were all women of color, several cultures, experiences and lifestyles were represented as we tried to fill the bingo squares. Laughter could be heard as attendees scrambled to find women whose second language is English, who had been to Australia, who loved working out, or who had body piercings. This gave participants an opportunity not only to network and meet others attending, but also to witness the diversity in the room. The first five bingo winners were awarded Target gift cards.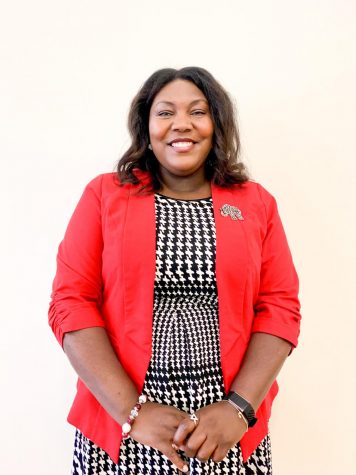 The guest speaker was Chianti Blackmon, Director of Multicultural Student Services at Frederick Community College. She opened her speech by declaring that this event would be an intentional living space, meant to foster inspiration, encourage vulnerability and focus on relationship building. She continued to pose two questions to the audience that was followed by a meaningful silence: "When was the first time you felt that you needed to be perfect?" and"What are the first images of perfection that you remember?" After a pause, some participants offered their thoughts. "My parents used to tell me that I needed to be twice as better as anyone else to get ahead," offered one participant. When asked about images of perfection, one woman simply said, "My mother". Both of these responses were met with affirmation and solidarity from other women attending and from Ms. Blackmon as well. The group then wrote on sticky notes the negative and positive experiences that their own relationship with perfection has brought to their lives. Negatives included "Spending less time with my children" and "Suffering mental illness and burnout", while positives included "Achieving career success" and "Finding strong friendships."  After sharing her own struggles with the concept of perfection, Ms. Blackmon made a powerful statement: "Perfection is the highest order of abuse."
Ms. Blackmon led the conversation to "the grace in growth". "Grace isn't necessarily spiritual or religious" she said to us. "When all is unraveling, grace is a kindness that's offered when it is least expected." She encouraged attendees to allow themselves grace when struggling to achieve their goals by filling themselves with love before giving to others. To do this, she suggested the following:
Establishing clear boundaries in all relationships. In practice, this looks like saying no to requests we only do out of obligation or to be 'nice'. "No is a complete sentence" she reminded attendees. 

Practicing gratitude for small and large blessings in our lives.

Focusing on yourself. "Comparison is the thief of joy. Growth is not linear." Ms Blackmon stated. 

Know when your emotional tank is on empty.

Find your village of friends and/or family who support you and hold you accountable for your well-being.

Allowing yourself the grace to pivot and change directions to make your life one that you enjoy. 
Ms. Blackmon ended her talk by asking the audience to save two central messages from the tea as reminders into their cell phones. On the 3rd of every month, to commemorate the WOC Tea and the wisdom shared there, the reminder was "We are releasing perfection and we are receiving the grace in growth". The second reminder was whatever positive message we took from the day set for a random time or on a day when we thought we might need it most. Carla Hairston, who works in Web Services at HCC, felt that this tangible reminder was one of the most beneficial experiences at the WOC Tea. She also felt that the encouragement to connect with others by finding a village was one of the most meaningful parts of the day.   "She [Ms. Blackmon] took us from ideas to action steps," said Ms. Hairston. "Being able to have that friend that can say 'Hey, you don't usually sound that way or look that way' is important too. You need someone who is going to go deeper than your first response so you can really let go or maybe even cry. It's cathartic."
Dr. Joy Stephens, Associate Director of Mental Health Counseling at the Counseling and Career Services department, offered closing remarks, praising Ms. Blackmon and highlighting some of the services available at HCC. Some of those include:
For more information on student services, contact the Counseling and Career Services office either by phone at 443-518-4499 or by visiting during office hours at RCF302.