Coffee with a Cop
On November 13, 2019, from 9:00 a.m. – 11:00 a.m. in the HCC Burrill Galleria, faculty, staff, and students had the opportunity to have free coffee and tea with officers from the Howard County Police Department. Coffee with a Cop is a national movement that was created to build trust between community members and police officers, one cup of coffee at a time. It's a simple concept: Howard County police officers and community members come together in an informal, neutral space to discuss community issues, build relationships, and drink coffee.
Coffee with a Cop has done wonders for community trust and partnership building. One key to the program's success is that it removes the physical barriers that routinely exist between police officers and community members. One-on-one interactions are a necessary foundation for partnerships. Informal contact in a friendly atmosphere increases trust between police officers and the members of our community.
I had the privilege to be able to talk to a couple of officers and ask some questions.
The first person I got an opportunity to talk to was Corporal Marc Lay who's apart of the Community Outreach Division.
The Community Outreach Division focuses on relationship building and crime prevention. Officers conduct year-round outreach to the public, specialized populations, community, and service organizations, churches, youth groups, minority associations, special interest groups, and other interested community organizations in the country.
The divisions include officers assigned as liaisons fro community outreach, mental health, youth, senior, Asian and multicultural populations. Corporal Lay said, " The goal for coffee with a cop is to engage with the community to answer any questions about police procedure, life questions, and any general concerns and that the motto is there is no agenda just here to chat." He wanted to emphasize how important it was for him and his colleagues to build trust with the community and build a relationship.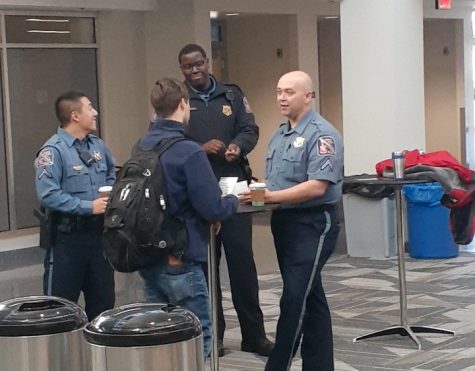 Another officer I spoke to was the designated Mental Health Liaison who reviews police reports when there is a mental health concern,
connects individuals and families to available community services, and works with the court system, jail and other country services using a problem-solving approach.
The liaison emphasized that Howard Country has been training officers in the Crisis in Training program and has reached 70% of the department to be trained to deal with the mental health crisis. He had also told me that there are about 1,200 to 1,300 mental health incidents. Another important thing he wanted to mention to me was that the police department has an extreme risk protective order which can temporarily restrict mentally ill individuals from having guns and the 911 flagging program that family and individuals can give information to the police to inform them about mental and physical health concerns such as Autism, Alzheimer, intellectual, developmental or physical disabilities so the officers responding can be informed and respond appropriately.
This event has helped me feel more comfortable with engaging with police and understand what Community Outreach does. If you have any questions you can visit the Police department's website, visit them on Twitter, Facebook, Instagram, or in person at Community Outreach Division, 10741 Little Patuxent Parkway, Columbia 410-313-2207.