Kelly Kellz Comes to HCC
The Student Program Board (SPB) hosted the wonderful comedian, Kelly Kellz, and I had the pleasure of seeing it live. Kellz was able to transform an environment full of stress into a place of carefree laughter for a complete hour. Her stage presence was admirable as she encouraged people walking past to sit and enjoy themselves. Some students came for the food but stayed for the comedy as people easily forgot about the snacks that were provided during her set, eager to sit down and enjoy the performer.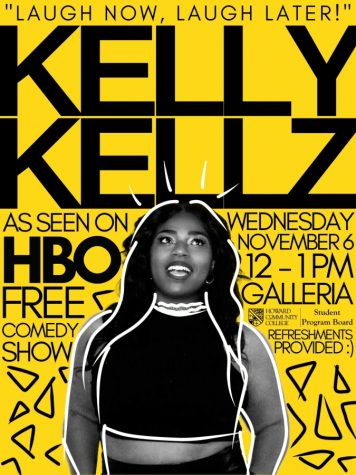 It was amazing seeing Kellz weave her real-world experiences into her set as she made them come to life through hilarious reenactments of dramatized events.
Of course, she had jokes for everyone and engaged with her audience; she seemed just as entertained by us as we were with her.
She had many things to say but some of my favorite bits included the ones about her students when she used to teach.
She made sure to tell us about the crazy things that kids say and do impulsively. She also had jokes about her former boss, the principal, and how they did not get along.
Her jokes were relatable to almost everyone in the room as they shouted out their agreements to her statements as well.
SPB definitely took time out to prepare for the event. They were very organized and provided us with notices about her arrival. They also provided snacks which were much appreciated after Kelly Kellz was done with her set.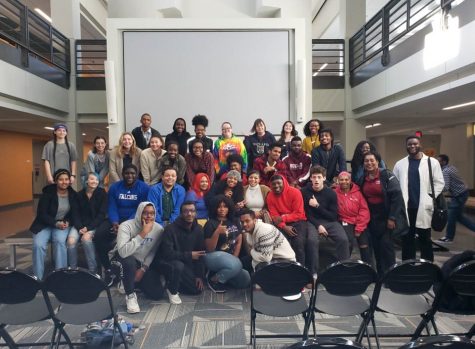 I enjoyed her personality and personable aura on and off stage.
She took her time to engage the audience and afterward took questions and pictures with many of the students and staff.
She lit up the room and was very attentive to the people around her.
Passionate about what she does and the people to engage with, I would most definitely pay to see her again. If you would like to check her out, she is on HBO All Def Comedy series in multiple episodes from 2017 and 2018. She is also active on Instagram, @KellyKellz_22, where she shares her upcoming events and funny tidbits about her life as she lives it. She also shared with us that she has a project coming up with Tyler Perry Studios. People are eager to see what she has in store for us next as she hits a big break in her career.
The Student Program Board regularly holds events on campus for the entertainment of students. On Wednesday, November 20th, SPB will be hosting a Pajama Paint Social from 11:00 AM – 1:00 PM in the Galleria. Refreshments, canvas, and paint are provided. Pajamas must be decent. A raffle for a Barnes and Noble gift cards will be held as well.
*A previous version of this article had the incorrect date for the Pajama Paint Social. This has been corrected. 11/19/2019*