Milkshakes and Music with Friends!
Upon initially walking into the Galleria, there was an absurdly long line with a lot of people and the sound of blenders whirring away, with one or two posters in the area advertising the event. After a while, people who were waiting in line were greeted by someone sitting at a table, collecting money and giving out tickets, entitling each student to one milkshake in the flavor of their choice. About a half-hour later, pop music started playing, making the area feel more welcoming and exciting.  The overall vibe of the event was really chill; it was low-key and really fun to sit and enjoy some hand-made milkshakes with friends while listening to music.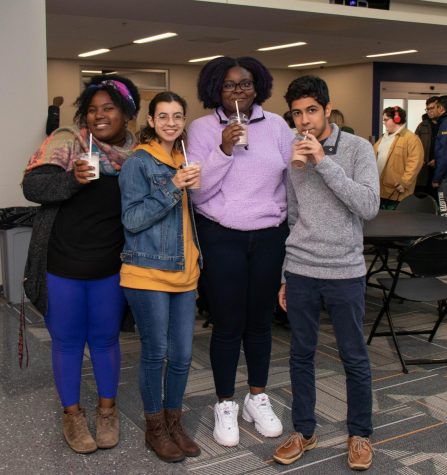 The event itself, formally named "Milkshake Bar," was scheduled to take place in the Galleria of the AC building from 12-2 p.m on November 13th, 2019. and the flavors included: vanilla, chocolate,
strawberry, and cookies & cream, with whipped cream available as a topping, served in fun and colorful cups with paper straws, a great way to stay environmentally conscious and friendly, as we are a green school and strive to help the environment in any way we can.
The milkshakes cost $2.00 for students and $3.00 for non-students and all of the proceeds went to the United Way.
Even though the event was pretty cool overall, there was a lack of information on the event itself, as there weren't many posters advertising it around campus. In the Galleria, there weren't any decorations signaling that there was an event of any kind taking place, something that would have been beneficial for those passing by to see. United Way, the charity this event was promoting, is a nonprofit organization that focuses on resolving issues related to "education, income, and health—the building blocks for a good quality of life," as stated on the front page of their website. United Way and HCC have a long relationship fundraising and taking part in each others programs. One thing I would have liked to see would be more information about United Way and their programs here in Central Maryland. Also, milkshakes supplies quickly ran out and the Student Program Board volunteers running the event had to close up shop early, a little bit before 1:15 p.m. This was disappointing, but all in all, it was a pretty fun and cool event with delicious hand-made milkshakes that were benefiting a good cause.