Open Mic Night at HCC
One of the most anticipated campus events has finally returned!
The most anticipated event has finally returned!
On Wednesday, Feb. 26, 2020, Open Mic Night II went off with a bang! With the host, Levi Stephens, it drew in a larger audience than its previous set-up who were all excited to see the performers that signed up. From singers to comedians to poets, the event got better and better as the night went on. This event was a chance for students, staff, and faculty to perform whatever they wanted to do–as long as it was approved by the Student Program Board. Open Mic Night allowed the performers to show the audience a new side of themselves that people might not see on a daily basis. Howard Community College promotes diversity, so it was no surprise to see a diverse set of performers and acts throughout the night.
The general rules and reminders for Open Mic Night are:
Everyone is welcome to attend and perform!
Each performance will be limited to a four limit block.
Participants can sign up to do multiple performances, but they will not be consecutive–unless the Student Program Board members say otherwise.
There will be a place for performers to plug in their phones or music if it is needed.
Performances should be family friendly and "clean"; befitting of the Howard Community College environment. 
If these rules and reminders were remembered and followed, then you would have had as much fun as me during this two-hour event. The Student Program Board worked diligently in order to have Open Mic Night II, since the first version of this event was such a hit. It was all thanks to Misha, Naod, Omo, and Yuliia that Open Mic Night II was successful and fun for everyone who attended and performed.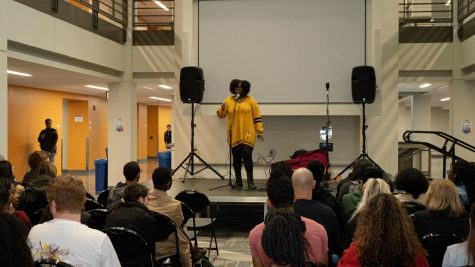 Along with the amazing acts, free food was provided. The food served included: grilled cheese sandwiches, seasoned fries, black bean soup, and an abundance of cookies, such as chocolate chip, oatmeal raisin, and plain sugar. In my opinion, the best food that can ever be served at a fun event is free food! As delicious as the food sounds, there were some highlights of the night.
One highlight was definitely the soothing tunes from Russell Dixon as he played his baritone saxophone. Russell improvised his jam session over drums and an electric bass that mended beautifully with his saxophone. The audience was in awe Russell led us through a jam session that we never knew we needed!
Another performer definitely caught the attention of the crowd as well, not just with singing a cover, but also with singing his original song, "Hashbrowns". His name is Olamide Dunni–Mide–and his talent is blinding! With his supportive friends hollering in the crowd, he captured not only the audience's full attention, but our hearts as well. His original song was catchy and different from the music that we listen to today; it was honestly refreshing. After his act, Mide let the audience know that his original song would be released on Mar. 13, 2020. How exciting! You can check out more of Mide's music at the QR code below.
It is so beautiful, encouraging even, to see these brave souls go on stage and share a part of themselves that they cherish. I was one of these brave souls, despite my stage fright, and I do not regret it at all. Unfortunately, the Student Program Board is uncertain if there will be another Open Mic Night soon. For now, I hope that everyone gets a chance to go to one or participate in one because it is so much fun! This might sound corny, but this event is life-changing, no matter the setting. It might be scary at first, but trust me, it is worth it.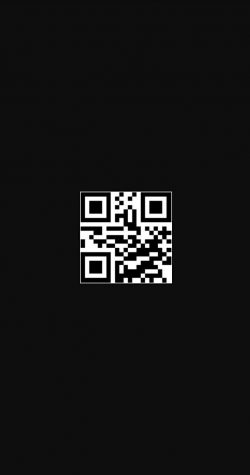 QR Code to Mide's music