Thanksgiving Horoscopes- Week of November 22
Thanksgiving Horoscopes for the Week of November 22, 2020
Capricorn: Jan 20 – Feb 16
Rely on your inner strength if hostility comes within the family.
Aquarius: Feb 16 – March 11
Thanksgiving and Black Friday may put a lot of pressure on you to talk with the family, but don't stress it too hard.
Pisces: March 11 – April 18
You are the type to kick off a Zoom Thanksgiving right. You don't need to spend it all alone.
Aries: April 18 – May 13
Try to show other people the socialite that lies within you without stirring up arguments at the dinner table.
Taurus: May 13 – June 21
Cooks, rise! This is the right time to show off your Thanksgiving cooking creations.
Gemini: June 21 – July 20
Use Thanksgiving as an opportunity for talking about projects you are working on.
Cancer: July 20 – Aug 10
By now, you should have received information from a friend about how to do your Thanksgiving, and/or how they are doing theirs.
Leo: Aug 10 – Sept 16
It is important to pay attention to your health, especially if you are going on a family trip outside of the state. There is the possibility of catching COVID-19 or other older diseases.
Virgo: Sept 16 – Oct 30
This Thanksgiving, you will have the opportunity to show your leadership, even if not all of your competitors easily agree with you and surrender.
Libra: Oct 30 – Nov 23
You should be more aware of the events around you. There can be changes at work causing a change in routine.
Scorpio: Nov 23 – Nov 29
It is good to introduce change into your life as this Thanksgiving comes. Consider spending time with distant friends and family this Thanksgiving holiday.
Ophiuchus: Nov 29 – Dec 17
This week will be good to escape all of the chaos and enjoy some outdoor time. Chances are that most people are inside eating turkey. We are all loners this Thanksgiving, and it's never bad to be a loner anyway.
Sagittarius: Dec 17 – Jan 20
If you're going to go on a long trip this week, be ready for unpleasant surprises.
Keeping You Engaged
As you can see, Thanksgiving really does have an effect on the horoscopes. It is positive for some, and negative for others. Of course, one timeless part of Thanksgiving is the food. Let's take a look at this analysis from thekitchen.com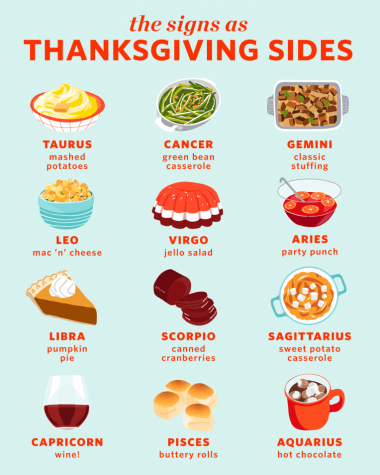 For the most part, they're right. I'd give them a B, considering that they didn't include Ophiuchus. As the snake-holder, it is their responsibility to prepare and/or consume the green bean casserole. For Cancers, I would suggest having some seafood. Even a shrimp cocktail appetizer will do, but you ideally want a crab or a crab-cake.
See you next week,
The Pizza Conjurer, formerly Pisquarius
If it was not mentioned in my staff bio, do not fret to contact me
Twitter = ambitiousAspie
Instagram = trent.tabor
Facebook = Trent Tabor
HCC email [email protected]