Student Spotlight: Marian Sandage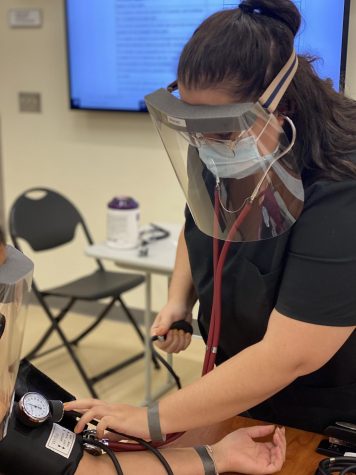 When one thinks of a "Student Spotlight," various scenarios may come to mind. Maybe a student-athlete should be featured? A club leader? A member of ROTC perhaps? What about a regular student, starting a new program, in the middle of a pandemic? Enter, Marian Sandage.
Sandage is a member of the newest Cardiovascular Technology (or "CVT") cohort, beginning this semester. You may be wondering, why should Sandage be featured in the student spotlight? Well, why not?
Similar to many (if not most) other HCC students, Sandage's journey is uniquely her own.
Sandage is a single mother to a young daughter and, as of this time last year, she was on a completely different trajectory. Like many others thrown off course by the pandemic, she had no idea what was in store. Originally a nursing student, Sandage was working on pre-requisite courses and trying to figure things out when the pandemic hit.
With the world around her being shaken up, she found her own idea of the future being shaken up as well. "I suddenly wondered, what if I want to be more 'behind the scenes'? CVT would give me the option of working in a laboratory setting," Sandage explained. "That, plus my dad's newly diagnosed heart disease, and being a single mother, all on top of the pandemic, made me realize a lot," she said. 
"
I come home, clean off, and change clothes, before even entering my house and touching my daughter."
— Marian Sandage
Sandage found herself wanting to know and understand everything about the heart. The CVT program would allow her to acquire extensive knowledge in cardiovascular science. And as a rapidly growing profession, finding a job and being able to provide for her family suddenly felt like it was all there within her reach.
According to the Bureau of Labor Statistics, the CVT profession is expected to grow around 12% by 2029, which is much faster than the average. Furthermore, Howard Community College is one of the very few statewide schools that offer the program. Upon completing the program, students are able to sit for the exam to become a Registered Cardiovascular Specialist.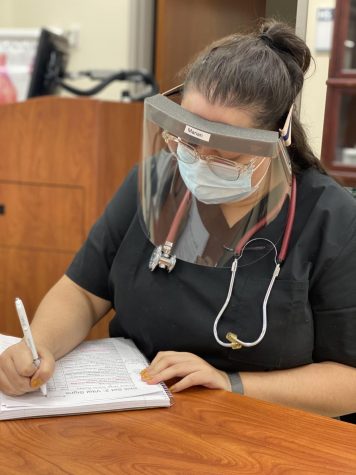 After some thought, Marian decided to go for it and was accepted into the program right away. When asked if she was nervous to be going into the laboratory and clinical settings in the midst of a pandemic, Marian explained how, although things are very different right now, she feels confident as long as guidelines and precautions are followed. "I wear scrubs whenever I go in, and I come home, clean off, and change clothes, before even entering my house and touching my daughter," Sandage said.
It's difficult to balance school, work, and being a single mother. "I do a lot of my studying at night, after my daughter goes to bed," Sandage said. "And sometimes, when my classes coincide with [my daughter's] online schooling, we have to sit there next to each other, both on our respective devices." Sandage might be learning how to read cardiac rhythms, while her daughter, beside her, learns to read the alphabet. "We make it work," Sandage laughs.