Players and Coaches Are Eager to Resume Sports at HCC After Year-Long Pause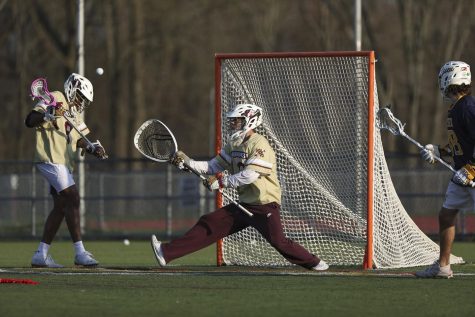 As athletics resume at Howard Community College for the first time in more than a year, athletes and coaches are optimistic about the future and reflect upon the challenges brought on by the pandemic.
Last March was an intriguing time for HCC athletics, as the men's basketball team had just won the Region 20 tournament and was looking ahead to the National Junior College Athletic Association National Tournament. Additionally, the 2-0 men's lacrosse team had been gearing up for a showdown with No. 3-ranked Onondaga.
Moreover, women's soccer coach Kate Seagroves and her players approached the offseason looking to build upon their impressive 2019 campaign when everything came to a screeching halt, as every team suddenly found themselves battling the same opponent in COVID-19.
As the global pandemic ravaged through the United States, teams across the country of all levels — high school, college, and even professional — had no choice but to cancel games for the foreseeable future. For Connor Browne, a freshman defenseman on the Dragons men's lacrosse team, it meant his playing days at Linganore High School had abruptly come to an end.
"It was devastating," he said. "All the seniors got together and we were like, 'this is it,' like we know that our season's getting canceled."
For men's basketball head coach and Assistant Athletic Director Mike Smelkinson, the shutdown could not have come at a more inconvenient time, as his squad was fresh off its Region 20 championship and had shifted its focus on the NJCAA tournament.
"The timing wasn't great," Smelkinson said. The Dragons seemed to be peaking at the right time, as they had won 10 of their previous 11 games — including seven straight — heading into the national tournament.
While the men's basketball campaign was terminated deep into the season, men's and women's lacrosse had their respective seasons come to an end at a much earlier point.
The men's lacrosse team had only played two regular-season games, winning both of them, and was looking ahead to a clash vs. No. 3-ranked Onondaga. The women's lacrosse team experienced similar early-season success, as the Dragons destroyed Ocean County 25-2 in their only regular-season contest.
But the attention quickly shifted far from sports, as the coronavirus pandemic made its presence felt throughout the country into autumn and winter, forcing the cancellation of soccer, cross country, track and field, volleyball and basketball.
"
It was devastating. All the seniors got together and we were like, 'this is it,' like we know that our season's getting canceled."
— Conner Browne
The shutdowns and restrictions caused by the pandemic forced athletes and coaches to improvise during the extended offseason. For Browne, it added a unique wrinkle to the transition between high school and college lacrosse.
He explained that there was "nowhere to go" during the shutdown's initial weeks, as many fields and facilities were closed, forcing him to find new ways to train. Browne resorted to "a lot of outdoor training," such as going on long runs in the park or doing pull-ups on monkey bars.
The offseason was just as unique for Smelkinson and his players, as the Dragons spent the fall practicing on portable basketball hoops in the motorcycle parking lot since gyms were not available. After a three-month break spanning December through February, the Dragons ramped things back up on March 1.
"We're doing what we can," said Smelkinson, who is hopeful the Dragons can "work [their] way back into the gym." And as of now, there are reasons to be optimistic about the upcoming return of HCC athletics.
Smelkinson credits this to Athletic Director Erin Foley, who has done "a great job" in her role in getting sports up and running once again at HCC. He also believes that Foley's leadership has had a positive impact on his players' dedication.
"I think…that's a big reason why none of our players talk about transferring or leaving," Smelkinson explained. "They're frustrated…[but] they know that we care about them and their health and their wellness."
Despite a few positive COVID tests throughout the past year that shut down offseason training programs for two weeks, Smelkinson suggested that the outlook is promising when it comes to resuming all HCC sports for the 2021-22 school year.
"[Trainer Tim Happel] has done such a great job," Smelkinson said, adding that "everyone's been doing their part in following all the guidelines and restrictions." He emphasized that "the most important thing is the wellness and safety of our student-athletes."
Coronavirus protocols are similar for all sports, as athletes are required to fill out an app-based questionnaire regarding COVID-like symptoms upon arriving at practice. If they pass, they go to Happel to have their temperature taken. If all is well, they are cleared to practice.
Masks are required for coaches and players, although players are not required to wear one during practice. Coaches, however, must wear masks at all times.
Such guidelines have been effective, as things seem to be moving "in the right direction" according to Smelkinson. As of now, HCC is preparing to start outdoor sports with 50 percent capacity crowds, all while being mindful of the mask and social distancing guidelines, with the hope that a conventional season comes to fruition in 2021-22.
While sports such as basketball, volleyball, and track and field are still waiting for their respective seasons to formulate, HCC's lacrosse and soccer teams are a go this spring.
The pandemic has resulted in an extra-long offseason for HCC soccer, which typically plays in the fall. The most recent contest for the Dragons men's soccer team was a 3-2 heartbreaker against Oxford Emory on Nov. 2, 2019, in the Region 20 Division III Tournament Finals, while the women have not played since Nov. 15, 2019 — a 1-0 triumph over Mohawk Valley in the NJCAA Tournament Consolation Match.
Seagroves sees the extended offseason as an advantageous one, as it has given her team more time to practice and prepare for the season, which begins April 8 as the Dragons travel to Keyser, W.Va. to take on Potomac State.
The opener for the men's lacrosse season can't come soon enough for Browne and his teammates, as "everybody is itching to go out there and play."
Browne isn't reveling in the obstacles the team overcame during the offseason, as he believes there is "a higher standard" for performance since last season was cut short. He stressed the importance of winning on the field and seeing the offseason work pay off.
Seagroves expressed a similar viewpoint, stating that while it is great her team can play, there is still plenty to be won on the pitch. Looking to build upon a 13-win 2019 campaign, Seagroves emphasizes that "the ultimate goal is to play in the national championship."
Smelkinson said that his team is "looking forward to next season," which currently does not have a set start date. Nonetheless, he believes there is a legitimate reason to be optimistic about all HCC sports moving forward.
"Things are changing," Smelkinson said. "I think that with more and more people getting vaccinated, it seems like things are moving in the right direction. The [state and county] guidelines are loosening up a bit, so I think it looks promising that we're going to have a season next year, whether we allow fans or not. We're hopeful."