Women in STEM: a New Biodegradable Plastic for the Fashion Industry 
In early 2020, co-founders Mecca McDonald and Mia Dunn launched their jewelry business Mo.Na. Gems in hopes of creating a biodegradable plastic jewelry alternative. With part of their mission being to "normalize sustainable jewelry," the duo had to develop a bioplastic recipe for their products. The idea behind the business is to create a plastic that is "sustainable, but also appealing, cool, trendy and modern." Since launching their business, McDonald and Dunn have gained a large social media following and funding from the Johns Hopkins FastForwardU Fuel Grant.
The business idea was born at the start of the pandemic when McDonald saw a rise in resin jewelry sales and began to wonder if there was a more sustainable option. She eventually reached out to an acquaintance, Mia Dunn, and together they worked to create a bioplastic formula they could apply to their products.
McDonald and Dunn began experimenting in their college kitchens with chemical recipes they found online, initially struggling to find a recipe that fit their needs. The pair worked for seven months, trying different ingredients and recipes until they came up with a sustainable bioplastic formula that fit the aesthetic they were aiming for. They then launched their business, Mo.Na. — followed by their first product — an earring, or "Gem."
Mo.Na.'s jewelry is made from starch-based, natural vegan and non-toxic materials. Their jewelry breaks down completely after about two weeks through biodegradation — similar to fruit, the jewelry becomes moldy and decomposes. This sets Mo.Na. apart from traditional brands since their products are not contributing to landfills by generating more plastic waste.
The name Mo.Na. — short for Mother Nature — reflects the pair's desire to educate people on the importance of buying sustainable products. McDonald and Dunn have been selling their earrings on Mo.Na.'s online store and through local businesses like Double Dutch Boutique. However, they hope to market to larger companies such as Anthropologie and expand their product line to include ashtrays, phone cases, etc.
One of McDonald and Dunn's ultimate goals is to create a product that can replace traditional plastics in the fashion world. The grant money from Hopkins has provided the duo with the resources they need to relocate to New York City. With the move, the business partners intend to perfect their formula by making it water-resistant and experiment with larger-scale production. As McDonald said, "it would be great if Mo.Na became the brand for art, fashion and sustainability."
View Comments (1)
About the Contributor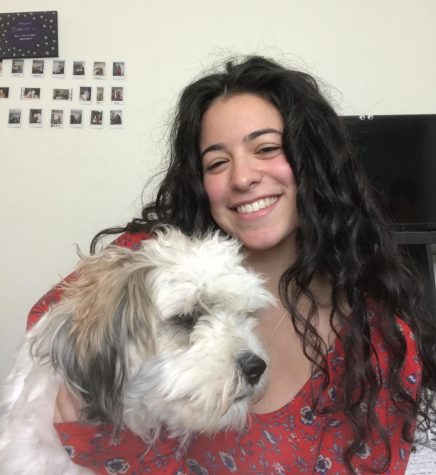 Melanie Price, Writer
Melanie Price wrote for The HCC Times during the 2021-22 academic year. She published three articles, including her insightful piece on President Biden's...