Life After Howard Community College: Stories of Success
As students of Howard Community College, we sometimes wonder what life will look like once we graduate after those two brief years of our education. Students who graduate from HCC have many options on how to proceed, such as transferring to a four-year college, joining the workforce or taking a gap year.
HCC offers a variety of courses and programs for students to explore passions and discover new talents. With so many different programs and courses available, HCC caters to the interests and ambitions of all students and provides them the opportunity to take the next step in the pursuit of their career goals. Many alumni have used HCC as a launchpad to ascend to great heights in the professional world.
Kerry Avant is a part-time resource manager for the Gilchrist Center in Howard County. Gilchrist is a nationally recognized nonprofit organization that specializes in serious illness and end-of-life care. 19 years before Avant started at Gilchrist, she applied at HCC in hopes of getting a spot in the nursing program.
"I moved to Howard County and my goal was to go to nursing school so I [could] support my family," Avant said.
After experiencing a life-altering event that involved a hospice nurse, Avant discovered a desire to specialize in the hospice field. When Avant applied to the nursing program, HCC was in a nursing glut that created a competitive atmosphere — especially if someone had a specialty they wanted to go into.
"That fall … we had to go and stand in line and you got a number. Your number determined whether or not you got admitted," Avant described. "Because they were really limiting the class sizes … I went to HCC at 2 a.m. with a lawn chair waiting in line … my number was in the top 10 and that was how I got my place in the nursing program."
While Avant was in the nursing program, she also landed an internship at Howard County General Hospital. Avant was an evening weekend student at the hospital so she could still care for her family. Every weekend, Avant went to class at night and worked a pair of 12-hour shifts to accomplish her clinical.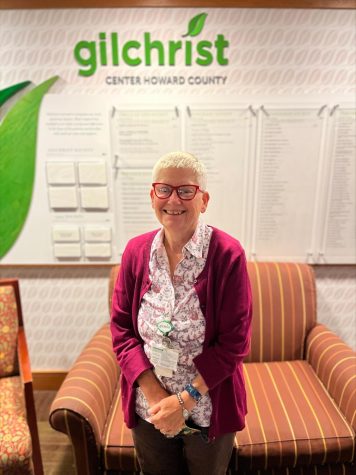 After graduating from HCC in May 1995, Avant faxed her resume to Stella Maris Nursing Home in Timonium, MD hoping to earn a position as a hospice nurse.
"I faxed my resume to Stella Maris every day for 21 days in a row," Avant said. "Finally after 21 days, they called me … they interviewed and then hired me during a time where they were not hiring."
After starting as a hospice nurse, Avant worked her way up to a management position at Gilchrist in 2012 that overlooked clinical and operational management of the Inpatient Hospice Unit. Now partly retired, Avant is a part-time resource manager for Gilchrist Center Howard County.
"I think HCC significantly helped me in my journey because it was a practical education and was accessible … and in that way, HCC was very supportive," said Avant. "I don't think I would've been able to do it if it weren't for HCC."
Blake Caplan is the current manager of Gilchrist and a previous student of HCC. Before earning his nursing degree, Caplan was looking for a local college with a strong nursing program.
"I knew HCC had a great nursing program. I [didn't] live in Howard County but I was willing to travel here because of their reputation." Caplan said.
While Caplan was in the nursing program, he obtained several internships that gave him hands-on experience. He shadowed at a shock trauma center, was a patient transporter at Mercy Hospital and had an internship as the director of the Brain and Spine Institute at Sinai Hospital.
"I've taken classes at several community colleges, but when I came here … I felt like the quality that I was getting out of my education was like a state school," Caplan described. "There is no question that HCC helped me become the nurse that I've always wanted."
After graduating from HCC in 2018, Caplan became an aide at Greater Baltimore Medical Center. For three years, he worked on a medical-surgical unit until he graduated and entered the nurse residency program.
"I became a nurse and graduated that first year after my residency," Caplan said. "I then became charge nurse … I was like a nurse leader on the floor."
As a charge nurse, Caplan was responsible for overseeing the operation of the nursing unit. One day Caplan was approached by Gilchrist President Catherine Hamel, who recruited Caplan for the manager position at Gilchrist.
As manager of Gilchrist, Caplan oversees the care of patients, nurses, and clinical staff, making sure the quality of the care is at an exceptional level.
"Never in a million years did I think I would end up in hospice," said Caplan. "But I love it and it's amazing."
"
There is no question that HCC helped me become the nurse that I've always wanted.
— Blake Caplan, HCC '18
Ann Greyson attended HCC in 2006-08 and majored in English literature. Greyson has recently published her novels "Gotham Kitty" and "Never-DEAD." Greyson took a dance course at HCC that ended up inspiring a character in "Gotham Kitty."
"My first course was a dance practicum choreography production performance," said Greyson. "I did a dance concert at the Smith Theatre. I did a solo performance about cats … that character later inspired my latest book 'Gotham Kitty'."
Greyson had a passion for acting and dancing and participated in four dance concerts during her time at HCC. Once Greyson graduated in 2008, she started to make short films based on possible novel ideas to see how the public would react. From there, she would decide if it would make a good story.
"For Gotham Kitty … I created a 15-minute video … I got it on the station Carroll County Community Media Center and they broadcasted it and it was nominated for an award," explained Greyson. "In 2018 I went off and did an expanded version called PURR and got it on a Manhattan neighborhood network station."
Greyson said her education at HCC was vital in her path to success. Her professors in the dance department helped inspire and push Greyson to be creative and express her ideas in her dances.
"You're being exposed to a very high level of education … the teachers were very impressive. They were helpful, inspirational and worked professionally. I felt like I could really communicate with them on my career goals." Greyson said.
Programs across HCC have gained a reputation of being highly developed, flourishing and ensures each student is getting the proper education they need to succeed. From nursing majors to English literature majors, many students have utilized the courses and opportunities offered at HCC to succeed and achieve their goals. HCC offers resources, services and faculty support to make sure that students meet their goals — big or small — and can graduate with a bright future ahead of them.
"We learned how to become professionals because of HCC," Avant said. "HCC has a strong reputation and that only happens if you offer a strong education."
View Comments(1)
About the Contributor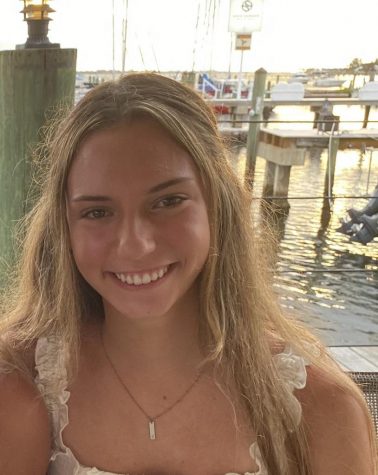 Courtney Ott, Writer
Courtney Ott began writing for The HCC Times in Spring 2021 and has published numerous outstanding articles throughout her tenure. She has always liked...