15 Holiday Songs You Need to Add to Your Playlist
The days are growing shorter, temperatures are falling and advertisements are bombarding us with the latest and greatest toys to buy.
Ultimately, this can only mean one thing — the holiday season is officially here. You can forget about those upcoming final exams (Just kidding, please do not).
You should, however, take a break to recharge — and I have curated the ultimate holiday mix to help you do so.
While winter does not begin until Dec. 21, many have been embracing the "holly, jolly" spirit since the day after Halloween.
Not everyone may be feeling so merry and bright, though.
No matter what is going on in your life or which holidays you celebrate (or do not celebrate), I hope you find joy this holiday season through my festive "melting pot" playlist! I have included old songs, new songs, covers, classics and just about everything in between.
1. "Christmas Drag" by I DON'T KNOW HOW BUT THEY FOUND ME
Despite the name, this track is anything but a Christmas drag. And don't let the unusually long and unique band name discourage you from listening to this super fun song with phenomenal instrumentals to jam out to. Along with fuzzy, old-fashioned home video-style footage and good friends hanging out together, what more could you want from a Christmas song? If you are unsure about how you feel about the holidays this year, this one is definitely for you.
2. "Linus & Lucy" by Anderson .Paak
Travel back to your childhood and simpler times with this song, which Anderson .Paak nailed with the smooth and jazzy vibes.
3. "Christmas in Harlem" by Kanye West
Soulful and nostalgic — Kanye at his best, in my opinion. The old-school hip-hop sound is unbeatable. If MTV still played music, this oldie would be on repeat.
4. "Cheers!" by Jukebox the Ghost
If Queen were a group of alt-rock millennials living in 2021, Jukebox the Ghost would be them. Written by Ben Thornewill and his bandmates during the pandemic, this tune signifies that "new music is on the horizon," according to the group. If I had a glass of bubbly, I would happily raise it and shout, "Cheers!"
5. "Holiday-ish" by The Regrettes (feat. Dylan Minnette)
"Holiday-ish" was released as a 7-inch vinyl record. If that does not tell you what you need to know about this band, I don't know what will. It even has the old-timey vibes of a classical holiday duet (except with updated, relatable lyrics!).
6. "Winter Song" by Leslie Odom Jr. (feat. Cynthia Erivo)
I fell in love with Leslie Odom Jr. as Aaron Burr (Sir!) in Hamilton. Then, when I thought he couldn't get any better, Odom released this — the perfect "feel-good" holiday tune. This song also introduced me to Cynthia Erivo, an English actress whose voice perfectly compliments Odom's. I am looking forward to seeing Erivo portray Elphaba opposite Ariana Grande in the "Wicked" musical next year!
7. "Christmas Tree Farm" by Taylor Swift
"Christmas Tree Farm" was re-released by Taylor Swift this year after being dropped originally in 2019. She has been re-releasing many of her previous songs and albums, and I am here for it. I love this one's upbeat and old-time feel.
8. "Feliz Navidad" by The Last Bandoleros (Cover of José Feliciano)
Everyone knows the Christmas classic, "Feliz Navidad," but not many know this catchy version — performed Tex-Mex folksy, fusion style! The Last Bandoleros' excellent rendition respectfully pays homage to José Feliciano (the original artist) while appealing to the current generation of listeners.
9. "Oh Ms Believer" by Twenty One Pilots
"Oh Ms Believer" is my favorite non-holiday holiday song! "Ms Believer" can be thought of as a double meaning — it can also mean "misbeliever." The song revolves around a girl who is anxious, insecure and cannot seem to fathom someone loving her. Not exactly "holiday" themed, but the people have spoken — myself included — and this song has been declared a lovely, jingling and snowy treat.
10. "Miracle" by Matisyahu
I first encountered Matisyahu at Webster Hall, a venue in New York City's East Village, back in 2009. I remember high-energy, soulful Jewish music and a dreidel-shaped disco ball. For "Miracle," the reggae rapper goes back to his roots, bringing together hip-hop and alternative indie rock for a love-infused holiday jam for all.
11. "Come on! Let's Boogey to the Elf Dance!"
Using smooth, satisfying instrumentation and fun lyrics, Sufjan Stevens knows how to make a Christmas song. Out of more than one hundred holiday songs Stevens has made over the years, this one is my favorite. This song is sure to make you giggle – or at least smile – and who doesn't want that this holiday season?
12. "Festivus!" by Mountain Sons
This song was released ten years ago this week! To celebrate, I recommend listening to it in a mountainside cabin with friends for a fun-filled, secular holiday. As "Seinfeld" writer Daniel O'Keefe said way back in 1997: "A Festivus for the rest of us!"
13. "White Wine In The Sun" by Tim Minchin
"A Christmas song for the nonbelievers" is how The Guardian described Tim Minchin's song in a 2014 article. Minchin, an Australian comedian/musician, wrote this meaningful and sentimental "Aussie anthem" acknowledging the contradictory, commercialized event Christmas has become.
14. "Fairytale of New York" by Vance Joy (Cover of The Pogues)
Fireplace? Check. Warm blanket? Check. Fuzzy socks? Check! These are the things I think of when listening to Vance Joy's calm, acoustic take on the classic ballad performed originally by The Pogues. The song is popular in the United Kingdom each year during the holiday season. When you finish listening to this one, I highly recommend checking out the original!
15. "The 12 Days of Christmas" by Straight No Chaser
A Christmas classic! I had to save the best for last. Who cares how "uncool" or "lame" acapella music may seem? These guys do not disappoint! Their stylish melodies and beautiful voices are practically hypnotic.
Hopefully this playlist puts you into the holiday spirit (if you're not already there). I hope you have a safe and warm holiday break!
 My full holiday playlist filled with these songs and more can be found on Spotify!
https://open.spotify.com/playlist/7DeHE4GD4IEm07qD54UUjA?si=fS6M7lLaTlmS-Qw3qTpyEA
Leave a Comment
About the Contributor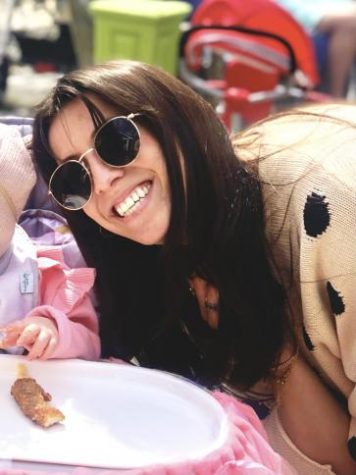 Heather Sabol, Writer
As a staff writer for two years, Heather dedicated herself to learning and growing as a writer here at The HCC Times. She previously graduated from Ohio...