Civic Engagement & Voter Registration: What's in it For Me?
The midterm and state gubernatorial elections are quickly approaching, with primaries scheduled for June 28 and general elections on Nov. 8. With 10 declared candidate pairs running for governor and lieutenant governor in Maryland, 469 total seats in Congress up for election and more elections later this year, preparing for the electoral process can be overwhelming.
To inform students about and help them prepare for the upcoming elections, Howard Community College hosted a Civic Engagement and Voter Registration Panel on Feb. 17. The panel featured HCC's Voter Engagement Intern Julija Devance, Social Sciences professor Dr. Michael Heffren, League of Women Voters board member Tyler McCurdy and Student Government Association Senator Jordan Wynn. Together with the audience in the Burrill Galleria, the panel navigated questions regarding the importance of voting and the benefits of being civically engaged.
Being civically engaged revolves around getting involved with the issues and campaigns relevant to voters and provides an opportunity to become more politically active.
Civic engagement is a significant element of political participation, and the number of attendees at the panel proved it. McCurdy was surprised by how many people attended and felt "encouraged" to see "how many people cared enough about the topic to invest the time to learn."
McCurdy's involvement with civic engagement started with his work for a behavioral health crisis program. His experience fighting for failed legislation taught him that fixing a problem "takes a strategic plan that requires understanding the system and the people in it."
For Wynn, being civically engaged means addressing issues that guide and positively shape the community. "Especially in times like this, where the country is divided politically," Wynn explained, "civic engagement is a great way to help heal that divide." But civic engagement isn't just for people as experienced as McCurdy and Wynn, as anyone at Howard Community College can become civically engaged with the political issues affecting them.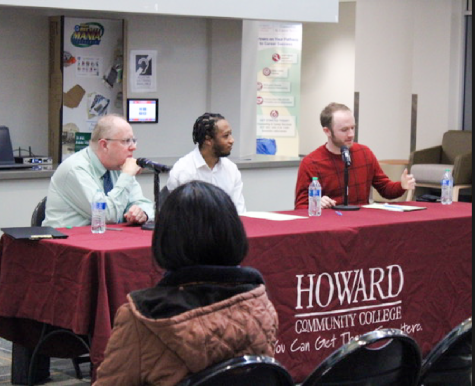 In 2021, Howard Community College students were affected by the American Families Plan, which initially proposed two years of free community college for Americans. This facet of the bill looked to make higher education more financially accessible, but some were concerned about where the burden of paying for it would fall.
Although later cut from the plan, that facet's potential impact and the magnitude of other current policies like the Freedom to Vote Act are part of what makes civic engagement so important. Being civically engaged as a student ensures you have a say in the future communal impact of the relevant political issues.
There are many ways to become civically engaged, and simply voting in this year's elections can make a difference. Though this trend has recently begun to reverse, overall voter turnout for midterm elections has been consistently low compared to turnout for presidential elections since the 1840s. For example, the 53.8% voter turnout for the 2018 midterm election fell below the turnouts of the 2016 (61.4%) and 2020 (66.8%) presidential elections.
The lack of voter turnout is a result of voter disinterest, feelings of voting insignificance and disagreeing with political platforms. A Pew Research Center analysis of 2016 Census Bureau data found that 25% of the registered voters who did not vote in the 2016 election claimed they disliked the candidates or the campaign issues. Additionally, 15% of voters were either uninterested in the election or felt their vote did not matter.
Despite a history of low voter turnout among Americans, there are many ways to get involved in the voting process as an HCC student. Discussing the importance of the upcoming elections with others is a great way to learn what these issues mean to them and yourself. Additionally, registering to vote this election season is an easy way to become more civically engaged. For information on registering, checking register eligibility, updating voter registration information and more, visit the Maryland State Board Of Elections website. 
As Wynn mentioned to voters unsure about their votes making a difference: "[Your] voice and opinions matter, and a great way to express them is to vote and get involved with [your] communities."