A Preview of HCC's First-Ever Recruitment Week
Anticipated collaboration between HCC Student Life and Wellness set to begin on Monday, March 14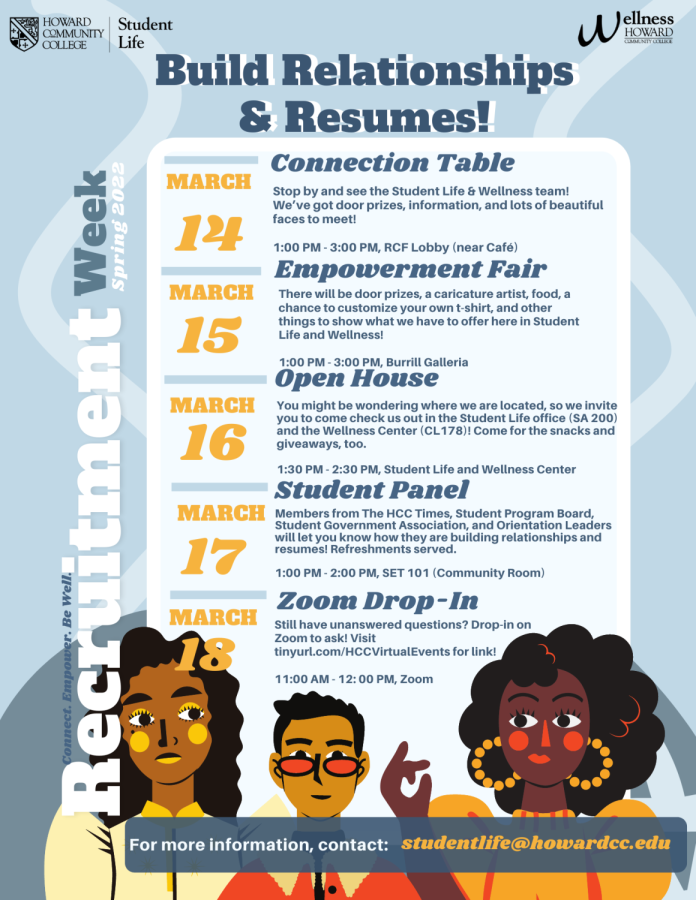 Howard Community College emphasizes career readiness in its community, offering a variety of events for students to learn about job opportunities and career paths.
In the days leading up to the Job/Internship Fair, Career & Counseling Services set up time blocks to offer students tips for success at the job fair and advice on career achievement.
On March 10, the Fair packed over 80 employers in the Burrill Galleria, where HCC students flocked to with questions, resumes and elevator pitches from 10 a.m. to 1 p.m.
HCC is now transitioning from the Fair to a new event, as HCC Student Life and Wellness are gearing up for the first-ever Recruitment Week — a week designed to connect students to the leadership and engagement opportunities Howard Community College offers.
The college will be hiring for the fall 2022 and spring 2023 semesters, so the week's events give students an idea of what paid and unpaid positions are available on campus.
Recruitment Week will focus on building relationships and resumes with HCC Student Life and the Wellness team, with event locations ranging from various places on campus to being held online. It will be joined by school organizations such as The HCC Times, the New Student Orientation Leaders, the Peer Health Educator program, the Student Program Board and the Student Government Association.
Recruitment Week begins Monday, March 14, with a Connection Table. From 1-3 p.m., students can visit the Student Life & Wellness team on the first floor of the RCF lobby. There, students can learn about the current team and what they do. Prizes will be available, as well.
The next event on the Recruitment Week itinerary is the Empowerment Fair from 1-3 p.m. on March 15 in the Burrill Galleria. Student Life Director Aisha Rivers said the Fair aims to "provide a setting that is fun and laid back to open up more avenues for connection." It will have activities ranging from caricature art to customizing T-shirts. The Fair will provide food, as well.
Wednesday doubles down on relationships with an Open House in the Wellness Center (CL 178) and Student Life Office (SA 200). Join representatives on March 16 as they go over where organizations are on campus, what positions are available and what involvement might look like for those interested. With snacks and giveaways provided from 1:30 – 2:30 p.m., the Open House is a place for students to see how they would fit in a role with HCC Student Life or Wellness.
March 17 puts faces to organizations with a Student Panel in SET 101. From 1-2 p.m., members of The HCC Times, Student Government Association, Student Program Board and Orientation Leaders will give the inside scoop on how they're building relationships and resumes within their roles. The audience will hear about members' experiences, enjoy refreshments and ask the panelists questions.
Friday, March 18 wraps the week up with a Zoom Drop-In from 11 a.m. to noon. There, attendees can get answers to questions about recruitment or catch up on information shared at any of the week's events.
Howard Community College's Recruitment Week looks to connect with students and link them to opportunities to become more involved at HCC. For those hesitant about attending Recruitment Week, Rivers advised them to "pick one thing from the week that looks even slightly interesting."
"We want to meet you, connect with you, empower you and help you build a sense of wellness in your experience at HCC," Rivers said. "At the very least, you might win one of the door prizes, but you could also find something you've been wanting or needing in your student experience."