Fashion: An Unusual Field to Gain Valuable Work Experience
No matter your major, the HCC Fashion Club offers a creative outlet to showcase your passion for fashion
When we watch a fashion show like Rihanna's Savage X Fenty or Paris Fashion Week, we may not realize the variety of jobs and skills needed to make the production look effortless.
Students and faculty can use their skills to participate in similar fashion shows on HCC's campus. Ultimately, an HCC student could become the next big name in fashion by starting their journey with the HCC Fashion Club.
The Club is led by President Genise Saint-Vil, who is an experienced photographer, fashion stylist, Nordstrom Ambassador and interior designer.
Though HCC is not known as a fashion school, Saint-Vil realized that HCC could join Howard University, Bowie State University and Stevenson University as leaders on the college fashion scene.
Saint-Vil and her team noticed the diversity of talented students and faculty on campus and looked to create a space for them to share their fashion creativity with the HCC community.
With her natural leadership skills, Saint-Vil took the initiative and played a crucial role in starting the Fashion Club in fall 2021.
The Club holds many fashion-related events, such as photoshoots and fashion shows. Even if students are not fashion majors, they can play a role in creating and hosting events. Business management, marketing, art and communication majors — to name a few — can contribute to hosting a memorable event.
For example, business management majors can handle the logistical aspects of the event, while marketing and communication majors work to promote the event. Art majors can provide entertainment for the events through singing, designing the artwork and taking pictures and videos. Students can lead on an ad hoc basis, or serve as club officers, as well.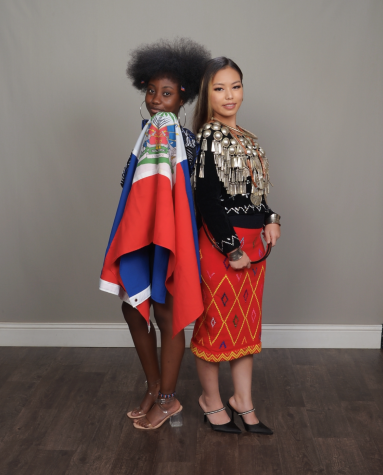 Working with the Fashion Club presents a rare opportunity to add this highly sought-after experience to a resume, portfolio or online profile. By joining the Club, students can get in on the ground level and start their fashion career at HCC.
Professors and faculty interested in fashion can play a role, as well. The Club is always looking for advisors and mentors who can share their knowledge and experience to expand the Club outward. These roles may work either in-person or remotely.
If you are not a remote advisor or mentor, you can attend the bi-weekly, in-person meetings in the Dragon Commons (CL 162). Meetings generally take place on Thursdays from 4:30-5:30 p.m. The next meeting is on Thursday, March 17. Seats for meetings are limited, so students should contact Saint-Vil if they wish to attend.
Anyone can participate. Students should email [email protected] or [email protected] with their name, why fashion interests them, what position(s) they are interested in and whether they are available for in-person meetings, remote meetings, or both.
There are upcoming opportunities to participate in exciting events, such as the spring fashion show in May. Saint-Vil will share more details about this event when they become available.
The Fashion Club needs you! Regardless of your major, you can use your skills to help HCC establish its place in the fashion field. The Club is quickly growing, and you can play a crucial role in making events successful by discovering your passion for fashion.
As Saint-Vil said, "let's build the HCC Fashion Club together!"