HCC Will be Mask-Optional Starting March 22 – Mixed Feelings Among Students
On March 9, Howard Community College President Dr. Daria Willis sent an email to students and employees announcing that the college's indoor face mask requirement will be lifted on Tuesday, March 22.
This announcement comes after the Howard County Public School System removed its mask mandate on March 1, stating that students, faculty, staff and visitors will no longer be required to wear a mask in HCPSS schools or on buses.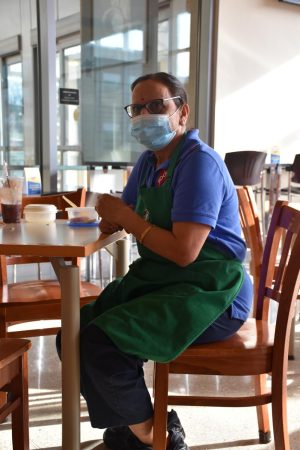 Dr. Willis described one reason that masks will no longer be mandatory is that Howard County received a score of "low" on the Center for Disease Control and Prevention's COVID-19 "community levels." 
The score was based on low numbers of hospital beds being used, individuals being admitted to the hospital and new COVID-19 cases in Howard County, thus allowing masks to be optional. 
Furthermore, Dr. Willis detailed HCC's statistical success in preventing the spread of the virus, revealing the college's zero percent transmission rate, 85 percent employee vaccination rate (with weekly testing for unvaccinated employees) and 70 percent vaccination rate for students in face-to-face classes.
Some community members worry that the college's decision was premature and fear for the safety of the large population of immunocompromised and at-risk individuals connected to the college.
Approximately 700 students at HCC are registered with Disability Support Services, and some students and employees have children who are too young to receive a vaccination. In addition, some students live with elderly family members who have a higher risk of being hospitalized if they contract the virus. 
General studies major Catherine Fisher is among the students at HCC who are immunocompromised. 
Fisher has had asthma since childhood and worries that lifting the mask mandate could put herself and other students with underlying conditions in danger.
The first-year student, who received two shots of Moderna, attributes never having been infected with COVID-19 to the masks worn by the people she interacts with. She fears that the college's decision will send students the wrong message about the efficacy of masks. 
"[The CDC] is not saying that people shouldn't wear a mask, they are saying people don't have to wear a mask, but they would still caution us to wear one," Fisher pointed out. 
Fisher plans to continue wearing a mask to her classes and work positions at HCC through the end of this semester.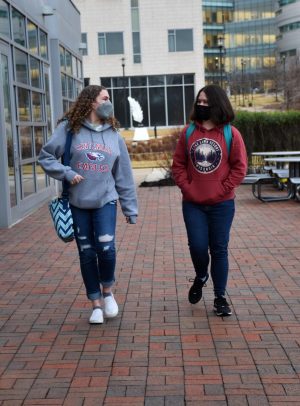 Now that masks will soon be optional, Fisher isn't sure if she feels comfortable coming to campus despite personally continuing to wear a mask. 
"If I had the option to do one of [my jobs] virtually or take a virtual class, I would consider it," Fisher admitted. 
Other community members are more optimistic about the college lifting its mask mandate.
Engineering major and college math tutor Rebekah Anastasia Ericson cannot receive the COVID-19 vaccine due to medical conditions. These conditions increase her risk of being hospitalized if she contracts the virus.
Still, Ericson is okay with responsible students not wearing masks indoors. 
"The worry I have is that people are going to be stupid about it and go, 'yeah I have symptoms, but I'm just going to, you know, go out and do whatever.'"
Peers and colleagues not wearing a face mask will not stop Ericson from coming to campus. 
"I wouldn't miss [my classes] for anything," explained Ericson, who, like Fisher, will continue wearing a mask for the time being.
Students appreciated the point in Dr. Willis' announcement stating that individuals who wish to continue wearing masks should "feel comfortable doing so."
"If some people want to wear masks, that's fine, that's good — don't make fun of them wearing masks," Ericson explained.  "As long as I keep my distance from you, we're good. As long as I'm not in your face and you're not in mine, we're good."