Inaugural Season of HCC Softball in Full Swing
Dragons' talent and drive bulldozes uncertainty surrounding inaugural season
On March 5, on a field nestled in the rolling green hills of Howard County, Maryland, the HCC softball team made its home debut. This spring is their first official season as HCC's newest sport, and the team is ready to make its mark on the school's history.
The first-ever HCC softball team (also known as Team 1), consists of 11 players and three coaches, including Head Coach Shannon Riley. In their first home games of the season, a doubleheader played at Kiwanis-Wallas Park, the players' talent and fierce drive were palpable. Team 1 ended the day with one loss and one win against Cayuga Community College.
In recent years, HCC had looked to create a softball program, according to Athletic Director Mike Smelkinson. The addition of softball to HCC became a reality in 2021 once the school dropped its women's lacrosse program because of declining participation.
For team members like outfielder Sarah Phelps, news of the developing team was an unexpected and much-appreciated surprise.
"I have played softball for about 13 years, and after the loss of my high school senior year season [due to the pandemic], I knew I wanted to jump back into things," Phelps said.
Brittney Dix, a first baseman, knows setting the standard for the softball program is not easy, especially when its players are still getting to know each other.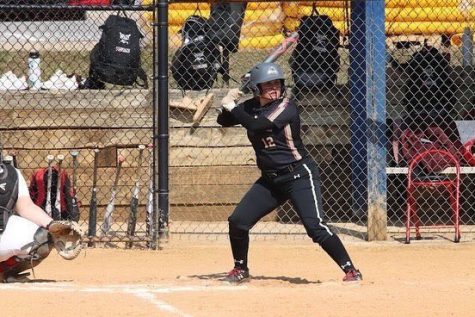 "I think the hardest part so far has been learning to work with my new team and make sure that we become one cohesive unit," Dix said.
Despite the pressure to perform well, the team stays balanced and does not let frustration stop them. Dix explained, "at the end of the day, this is a game that we have fun playing."
The Dragons could not have a better coach to guide them along the way, according to Smelkinson.
"Shannon [Riley] has been an invaluable asset to our athletic department in many ways for many years," Smelkinson said.
"[Riley] has a plethora of skills, is well-connected in the Howard County softball community and is a great mentor for the young women who participate in her program," he added.
The Dragons have played 12 games so far, and have won three of their last five contests. The team has 16 more regular-season games through March and April, eventually leading to the Region 20 conference final tournaments and the National Junior College Athletic Association (NJCAA) National Championships.
While she was unsure what to expect playing on a brand-new team, Phelps views the Dragons' inaugural season as a chance to put HCC softball on the map, emphasizing that she and the team are "looking forward to shocking people."
Meanwhile, Dix is eager to let the team's performance on the field do the talking, asserting, "we are Team 1 and we are ready to show everyone what we are made of."
---
To support and cheer on the women's softball team, their full schedule — along with rosters, game reports and other information — are available on the HCC Dragons athletic site.