What to Know About Funimation Joining Crunchyroll
Increased subscription fees, more shows and heightened uncertainty accompany the unification
On March 1, Crunchyroll announced Funimation and its subsidiary, Wakanim, will unify under the Crunchyroll brand.
The move means all the anime in Funimation and Wakanim's libraries, including anime like "My Hero Academia" and "Jujutsu Kaisen," will migrate to Crunchyroll.
New anime coming out this spring will stream exclusively on Crunchyroll, whereas Funimation will only update ongoing anime like "Attack on Titan: The Final Season Part 2."
To celebrate the unification, qualifying Funimation, Wakanim and VRV subscribers will receive an email with a link to redeem a special 60-day free trial of Crunchyroll Premium.
The change doesn't come as much of a surprise after Sony, who owns Funimation, acquired Crunchyroll for $1.175 billion last August. Some notable anime available on Crunchyroll include "Cowboy Bebop" and "YuYu Hakusho," which were previously exclusive to Funimation.
Additional Funimation titles, including "The Devil is a Part-Timer!" and "Kaguya-sama: Love is War," will be available on Crunchyroll and added to a "regularly updated" list published on Crunchyroll's website.
One result of the unification is that non-Crunchyroll subscribers will have to pay a $9.99 monthly Crunchyroll subscription fee once their free trial ends.
Funimation offers two subscriptions: $5.99 per month for its cheapest plan and $7.99 per month for offline viewing and other perks. Users can still utilize Funimation by itself to avoid paying for the more expensive Crunchyroll subscription, but they cannot access new anime released on Crunchyroll.
Additionally, the unification means Crunchyroll's streaming apps will be on platforms that previously hosted Funimation's app.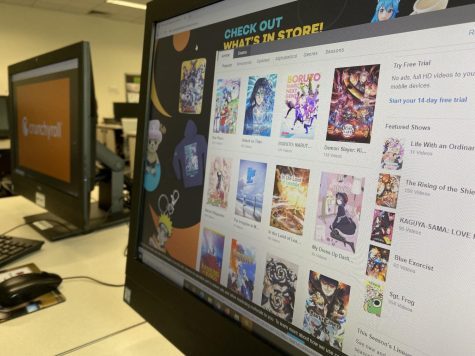 A Crunchyroll spokesperson said that the company is "currently evaluating which legacy Funimation platforms make sense to explore." The Crunchyroll app is available on over 15 platforms — most recently the Nintendo Switch in February.
Furthermore, the pairing brings uncertainty regarding Funimation's future. Everything available on Funimation is — or will be — available on Crunchyroll, so people might question whether Funimation should still exist by itself.
A frequently asked question by Funimation users is whether they can transfer their account over to Crunchyroll. Despite the two streaming services unifying, their subscriptions remain separate, which can be problematic for those who recently paid for or renewed their Funimation subscription. To receive a refund, a Crunchyroll spokesman advised users to contact customer service.
Benjamin Fan, an advisor of HCC's Anime Club, said Crunchyroll "looks promising" after its merger with Funimation. Fan watches animation content stemming from Amazon, Netflix and HIDIVE but does not have a Funimation or Crunchyroll subscription.
However, Fan said that he would consider getting a Crunchyroll subscription if it continues gaining market share. Fan added that his "gut feeling is $12" regarding how much Crunchyroll's subscription price could potentially increase because of the move, reasoning that Sony presumably wants to make Funimation users comfortable with transitioning to Crunchyroll.
Second-year HCC student Martin Miller, an avid anime fan with a Funimation subscription, welcomed the move because "there [will] be more shows [available on Crunchyroll]."
Miller didn't have a problem paying more for a Crunchyroll subscription because all the anime he wanted to watch is now on the same platform. He believed establishing one platform to watch anime was "big for the anime community."