HCC Women's Soccer Team Reacts to USWNT Equal Pay Agreement
After a six-year battle, the U.S. Women's National Soccer team has finally settled with the U.S. Soccer Federation for equal pay. 
In February 2022, the U.S. Soccer Federation agreed to terms with the class-action gender discrimination lawsuit filed by the UWNST in 2019. The dispute started in 2016 when members of the UWNST filed a federal equal pay complaint focused on the women's team receiving unfair wages compared to the men's team.
In 2019, claims suggested that despite its exceptional performance on the pitch — which included back-to-back FIFA Women's World Cup titles in 2015 and 2019, respectively — the women's team was being paid significantly less than the men's team.
After reviewing the lawsuit, a judge in 2020 dismissed the complaints about unequal pay and ruled that both teams were being compensated fairly. In 2021, the UWNST filed an appeal, which ultimately led to the long-sought-after agreement.
The agreement is a significant victory for women's soccer teams throughout the country. Excited by the news, members of the HCC women's soccer team explained how the agreement is motivating for female players at all levels.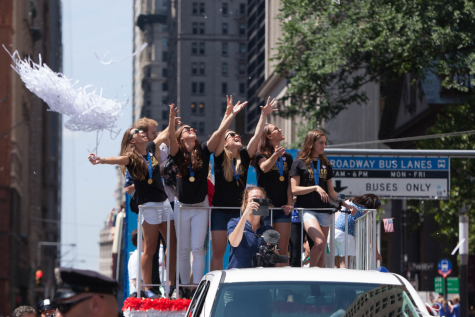 When head coach Kate Seagroves found out about the agreement, she was not surprised and explained how the team's fanbase had expected this for years. 
"I thought it would happen," said Seagroves. "The women's national team has a great following, has been extremely successful and finds ways to fill stadiums. Women's soccer at the international level is still growing, so I think it was just a matter of time for [the U.S. Soccer Federation] to realize they deserved the same pay."
Seagroves also stated while this agreement should have been settled long ago, the team is worthy of its victory nonetheless. 
"I felt that it was long overdue. The women's national team has always been competitive and champions on the international stage and does have a large fan base. It was well-deserved."
Now that the team is receiving equal pay, Seagroves stated what this accomplishment means for female players and their future.
"I think it gives women motivation to work hard to show they deserve what men deserve. Players can look into the future and know that the possibilities are endless and a chance to make a living off of a game they love could be a reality. It takes dedication and passion to become an elite athlete, but knowing you could earn a living doing it is enough motivation."
Selia Jackson, a sophomore outside back for the women's soccer team, explained how the new change in pay affects her mindset regarding the importance of women's sports.
"To me … I feel that I matter just as much as men in sports, which is important because I have always felt that women's sports are often overlooked."
Jackson also stated that she was "very happy" and surprised when she heard about the news and believed such an agreement would eventually be reached.
"
I think it gives women motivation to work hard to show they deserve what men deserve."
— Seagroves on the equal pay agreement's impact on female athletes
"As someone who grew up watching the women play and accomplish more than the men, as in win tournaments, cups and titles, it was great to hear that they were going to be paid equally," said Jackson. "I did start to think that it would happen eventually because the women have been fighting so hard for this for a long time. But still, when it did happen, I was surprised."
As a player, Jackson explained what the agreement means to other players and the motivation that accompanies it.
"More women may feel … motivated to stay with soccer after college and pursue it professionally because they will be treated fairly," said Jackson.
After this drawn-out, difficult process, the UWNST will receive $24 million in the settlement. Twenty-two million dollars will be used to repay the players behind the suit. The remaining $2 million will fund girls soccer programs and the players' post-career ambitions. The U.S. Soccer Federation has also pledged that equal pay will be enforced, effective immediately, between the women's and men's national teams. 
The new agreement also provides a new source of inspiration for female athletes by recognizing women's sports on the professional level. The UWNST's perseverance to keep fighting for six years leaves an impactful message for female athletes.
This step toward equality shows women's sports are important and deserve fairness — something that doesn't just apply to the UWNST, but all to female athletes.
"I think that this affects [female college] athlete's mindsets because this event shows that … things can be accomplished by fighting hard for what you want," said Jackson. "It shows that female athletes are worth just as much as male athletes and should be treated as such."