Israah Ansari Wins the 2022-2023 SGA Election
SGA's newest president looks to recognize more holidays, promote mental health awareness and serve as an approachable figure in the HCC community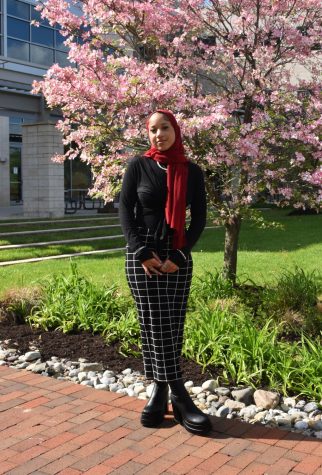 Israah Ansari has won HCC's Student Government Association presidential election, besting candidate Joy Rice to secure the coveted SGA position. 
This year's election generated a record-high number of votes among HCC students, and after two days of balloting, Ansari was announced the winner on April 7. 
Ansari is a first-year student at HCC, double majoring in general studies and social science with a focus on psychology. Ansari enrolled at HCC after her plan to attend a four-year university was disrupted logistically.
"I'm from Montgomery County, but [I] went to school in Prince George's County my whole life. I applied to a bunch of four-year schools … and got a full ride to Towson," said Ansari. 
"There were issues with housing and transportation, and my childhood best friend told me she was going to HCC. I looked into it, talked to my parents and decided [HCC] is where [I would be] going."
Ansari stated in her letter of intent that she struggled academically in high school, as bouts with mental illness and poverty led to declining success in the classroom. Ansari realized she wanted to better herself and how others viewed her.
"A lot of people romanticize depression, skipping school, having bad grades and living the teenage life. Being in it, you realize it's not fun at all, and it's very lonely because no one else is not putting in effort and failing," said Ansari. 
"It's one thing when teachers and adults belittle you for bad grades, but once my peers saw that too, that was my biggest motivation to get out of that state."
Since then, Ansari has maintained a 4.0 GPA, is on the dean's list and is in the Phi Theta Kappa International Honor Society. Excelling in the classroom wasn't enough for Ansari, who stated that running for SGA president was the next step in her academic success. 
In past SGA elections at HCC, candidates won by default because they were not running against an opponent. Such was not the case this year, and Ansari stated how nerve-wracking the process was since there was a competitive aspect to the election.
"It was extremely stressful … this is the first [competitive SGA election] HCC has had in five years. Every other president and vice president has won by default because no one ran against them. 
"It was also a little unorganized … because, at the same time [as campaigning], I'm balancing six classes," Ansari explained. "Some days I didn't go to class so I could campaign, or I stayed up really late making flyers."
After the tense election, Ansari gathered with friends and her team when she received the email that announced who won.
"I was in my office at the  Civic and Community Engagement on campus, and I got a text from the current SGA president that said 'check your email.' I had waited for both my supervisors and my friends, and we all opened the email together," explained Ansari. 
"The first line of the email did not say 'Congratulations' so I thought I lost. A couple of lines down, it said 'Congratulations' and I was screaming and jumping around. It felt so surreal finding out that I won."
"
A lot of people romanticize depression, skipping school, having bad grades and living the teenage life. Being in it, you realize it's not fun at all, and it's very lonely because no one else is not putting in effort and failing
— Ansari on battling depression and academic struggles in high school
Ecstatic about winning, Ansari believes that she is fully prepared to take on the role because of her previous leadership experiences.
"I have a lot of experience in organizing events and coaching individuals. I was a part of a DMV youth committee in high school, where we organized carnivals and after-school events. I also put together pep rallies, hosted club meetings and was a coach for Muslim Interscholastic Tournaments," said Ansari.
 "I feel like the one thing that was consistent through all those leadership positions for me was my ability to get to know my peers. I feel like a lot of leaders act as if they are above the people they are leading. That was never me … I was always the leader that gave people rides home or ate with them at lunch if they looked down."
Before Ansari was elected, she had already come up with tasks to work on if she became the next SGA president. Her first plan listed in the letter of intent was to make schedules more flexible for students experiencing illness. 
"COVID has changed our lives in a way where I believe it should not be so difficult for students to miss a day and not be able to make things up. We were online for almost two years, and it has shown us we can do things online," explained Ansari. 
"These are paying students, and they are humans outside of school. Accommodations like recorded lectures or online labs are not difficult [and] make it easier to be a student and a person at the same time."
Ansari also spoke on the importance of acknowledging mental health in the academic community.
"Mental health also needs to be recognized. Professors and staff receive training for emergency events, but they should also receive training for mental health to understand its importance and how to handle it," said Ansari. 
"I also do hope to bring on-campus counseling back in-person so students can still come on campus … [and] hopefully have the energy to go to class."
Ansari also hopes to get a variety of religious holidays recognized so students will not fall behind if they need to miss a class, exam or lab. 
"There is a strong presence of different religions on campus, and not all holidays are recognized," said Ansari.
Aside from conducting surveys to determine which religions HCC students practice, Ansari plans to work with HCC President Dr. Daria Willis to push her initiative.
"If we can't get an off-day, we can at least make it easier [perhaps by] getting a pass, but … many other universities recognize these holidays outside of Christianity, so I will definitely push for an off-day."
Besides having days off, Ansari wants these additional religious holidays to be celebrated more on campus.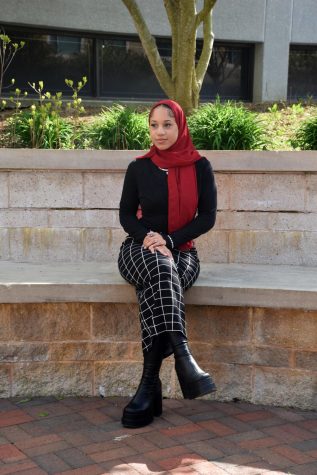 "We celebrate, get off and have parties for Christmas at school. We also get off for Thanksgiving and have meals passed out at school. Why can't Muslim or Jewish holidays be celebrated the same way?"
In addition to making schedules more flexible and pushing for more religious holidays to be recognized, Ansari explained what else to expect out of her leadership style. 
"I imagine that I am a very social individual. I will say 'hi' to anybody in the hallway … and, in my asynchronous courses, I [will] reach out to people. My extroversion will allow me to befriend anybody and understand their needs and dislikes," said Ansari. 
As SGA President, Ansari wants to conduct anonymous surveys for students to provide feedback, which played a crucial role in her campaign strategy. 
"When I was campaigning, I had a suggestion box where anyone would anonymously write down what they wanted to see more of, so I plan on continuing that in the Student Life office," Ansari explained. "Goals will definitely come as my team and I go … I want to expand on what is already done."
To balance the demands of being SGA president, Ansari has many hobbies outside of school. Her well-roundedness is present even off-campus, as her variety of interests includes painting, drawing and cooking. She also likes public speaking and has a keen eye for fashion design.
As she prepares to take office as HCC's newest SGA president, Ansari wants the student body to know that she isn't just a leader, but a friend. She emphasized that, above all, people should feel comfortable approaching her with questions, concerns and recommendations.  
"I want the student body to know that I am not above them but with them. I want to be the individual that they feel comfortable enough to come to me about anything," she said.
Ansari stated that additional goals for the future will come as her team and herself become increasingly comfortable with their respective roles. Ultimately, becoming the next SGA president is an accomplishment not only for herself but the entire student body.
"I want to thank the Student Life office and the SGA team again for making this happen. I want the student body to know that I am not above them, but with them. I want to be the individual that they feel comfortable enough to come to me about anything," said Ansari. 
"I do care about what they have to say because they're my friends. Like I said a million times, I'm not just a leader but a friend."