Managing Stress for HCC Students: Exploring Mental Wellness Resources on Campus
Wellness Center, RCF offer plethora of services for students in need
Stressful and challenging days are common for college students across the country, leading many of them to seek support when dealing with mental health struggles. 
Stressors like academic pressure, job duties and a lack of leisure time may put students' mental health at risk, so it's important to seek help when experiencing high levels of stress.
Howard Community College is committed to connecting students with a diversity of resources that help them manage their mental health and improve their overall wellness. There are many services available in both the Wellness Center and the RCF building for students to enhance their well-being. 
The primary purpose of the Wellness Center is to provide preventive care and alleviate stress through its many services, from massage therapy to Reiki, to acupuncture and yoga. 
A full-body stress reducer, massage therapy uses touch to manipulate the muscles and other soft tissues in the body. The relaxing, nourishing service can be booked through an appointment by contacting an HCC massage practitioner directly. 
Reiki, another type of touch therapy, takes place in a calm environment and relieves stress through hands-on energy healing. The practice is designed to enhance mental wellness as a meditative process. 
Reiki has become increasingly popular at HCC, according to Nancy Berg, a leading practitioner of Reiki in the Wellness Center.
"I started here at HCC about ten years ago, and [Reiki] has really been catching on, especially with the use of social media," said Berg. "Reiki is a great way to reduce stress, anxiety and pain. It's comparable to getting a good night's sleep … a very quiet, meditative process."
The Wellness Center currently offers free Reiki sessions that meet on the second and fourth Wednesdays of each month.
Also offered on Wednesdays from 10 a.m. to noon is auricular acupuncture, which focuses on stimulating points on the ear with needles. Yoga, the practice of balancing the body and mind, is held on various Mondays from 2-3 p.m. The Wellness Center also offers 15-minute sessions for students to use a massage chair for free. 
Another feature of the Wellness Center is its sexual health clinic, a resource that partners with the Howard County Department of Health. The clinic provides access to confidential treatment and preventative measures for STIs. It also offers STI testing and follow-up meetings with nurses from the county health department to ensure students are protected against potentially harmful infections. 
Taking care of sexual and physical health ultimately contributes to better mental health, according to Health Promotion and HCC Wellness Center Associate, Sarah Emden. "Keeping your physical and mental health go hand in hand," explained Emden, "so improving one benefits the other."
"
Reiki is a great way to reduce stress, anxiety and pain. It's comparable to getting a good night's sleep … a very quiet, meditative process."
— Practitioner Nancy Berg on the benefits of Reiki
Regardless of what may be stressing someone out, the Wellness Center welcomes anyone within the HCC community who needs assistance and works to ensure they understand their situation and that they are not alone. The variety of relaxation techniques offered in the Wellness Center is a great way for those in the HCC community to relieve stress and improve well-being. 
Students can stay up-to-date with events and services offered in the Wellness Center to ensure they don't miss an opportunity to relieve stress. Additionally, the center's open-door policy allows students to speak with the director, Tara Rupp, for immediate assistance.
Other forms of therapy are available in the RCF building, such as personal counseling, where students can talk with a counselor when they feel stressed or have encountered a crisis. 
The Academic Support, Counseling and Career Services center in the RCF is run by professionals who offer advice and crisis intervention to students experiencing high levels of stress and anxiety. 
Students can meet with a counselor either in-person or virtually to discuss the stress of balancing a work schedule and academic demands. Counselors can also discuss more personal matters, such as stress stemming from family or the pandemic.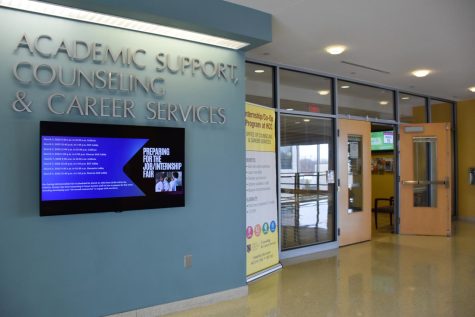 Everyone reacts to challenges in a unique way, and while they provide different types of therapy, HCC's counseling and wellness services accommodate all students, regardless of what they're struggling with. 
Services in the Wellness Center, like Reiki and yoga, offer a fun and relaxing break from stress. Meanwhile, students who prefer counseling can request a one-on-one session with a professional at any time, as long as it doesn't conflict with their class schedule. 
Students at Howard Community College battling stress and anxiety are encouraged to utilize the available wellness resources.
The care provided by the Wellness Center and the Academic Support, Counseling and Career Services center is valuable for mental health support and for fostering a safe, friendly and inclusive environment for all.