What Maryland's Remapped Districts Mean for Howard County Voters
New district boundaries bring shift in Howard County's political affiliation
On April 4, Maryland Governor Larry Hogan signed a revised version of the state's congressional district map into law. 
This approval comes after the initial map was denied on March 22 by Anne Arundel County Senior Judge Lynne A. Battaglia, who ruled it extremely partisan and gerrymandered.
Battaglia also claimed the map violated Maryland law concerning legislative districts and gave the General Assembly until March 30 to redraw the map, which Gov. Hogan helped enact in April. 
"It's a tremendous victory for democracy," said the governor in a recent news conference, "and for free and fair elections in Maryland."
Every 10 years, states must redraw their political district boundaries through a process known as redistricting after the U.S. Census is taken. Doing so accounts for significant population changes such as influxes of people moving in and out of areas so that districts drawn contain populations equal to each other.
Maryland has eight congressional districts, and before the new map, seven of the district seats were Democrat, while only one was solidly Republican. The revised map has four solidly Democrat, two Democratic-leaning, one neutral and one solidly Republican seat. 
For Howard County residents, this means voting will be less partisan than it has in past elections. Previously, Howard County consisted of the 2nd, 3rd and 7th Districts – all solidly Democratic.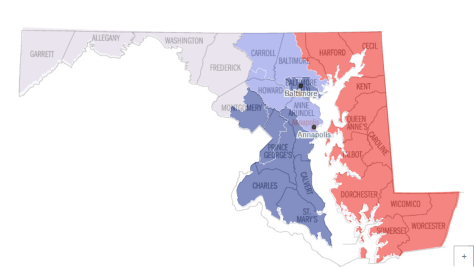 However, the new map ultimately shifted the 3rd District's political affiliation from Democrat to Democrat-leaning, suggesting Republican candidates have a greater chance of winning Maryland's 3rd District seat in future elections.
Maryland's revised congressional district map shifted Howard County's political affiliation from Democratic to Democratic-leaning
For House candidates, this makes the 3rd District seat more competitive and places added pressure on both parties to secure votes. The Republican candidates will look to swing some of the Democrat or neutral-leaning voters to their side as the Democrats will seek to maintain their grip on the 3rd District, currently held by Congressman John J. Sarbanes (D).
The remapping comes as a way to verify the voting process' integrity, according to HCC student Génesis Turcios. "With the whole redistricting of Maryland, I feel that [the new map] is fair because it shows that not everybody is going to be for [the same] party." 
She mentioned that remapping is an effective way to uphold the standards of fairness and integrity for future elections. 
Turcios also stated that regardless of how the districts are drawn, she will still vote. "It's my legal duty as a citizen," she explained, citing how different demographics historically all fought for the right to vote. "One more vote can make a difference on whether a [candidate] wins or not. Everyone's vote matters.
"Where [there are] people, there's power."