You Can Get There From Here, But Please Be Careful!
HCC community members address the rising volume of traffic on campus and its impact on drivers and pedestrians
As students and staff shift gear into post-pandemic life, increased campus traffic and safety hazards have become concerning for drivers and pedestrians at Howard Community College.
Members of the HCC community agree that there needs to be more pedestrian accessibility and effective traffic signs to simplify communication between drivers and pedestrians.
Ruth Huffman, a student at Howard Community College, has noticed the increased traffic at HCC and how it affects other students, such as her son, whose parking situation has changed now that lots are filling up more often.
"You could park closer to the buildings last semester because there were still a lot more people taking online courses," Huffman said, "and now [my son] is at the back of the parking lot."
The increased volume in traffic has also created more instances of cars speeding on campus.
Brenna Siperko, a student at HCC, agreed that drivers, including herself, tend to ignore the speed limits posted throughout HCC.
"I'm guilty of it, and I know my friends and family are [also driving faster] than [they] should be," Siperko said.
According to investigator Richard Schnitker of HCC Public Safety, the increase in campus traffic and speeding has made security monitor surveillance cameras more actively.
"Over at the [B and C] lots by the Health Sciences Building [HSB] and by the SET building is where people tend to go a lot faster, so you just have to pay attention," said Schnitker. "We do monitor [traffic] from a security perspective, but if we ever get complaints, we always have the option to put an officer out there to make sure traffic slows."
Throughout the past month, four drivers have been ticketed, according to HCC Public Safety.
There are different ways HCC can make commuting on campus safer, from incorporating flashing stop signs to adding more emergency call stations on campus roads and paths in case of a traffic-related incident.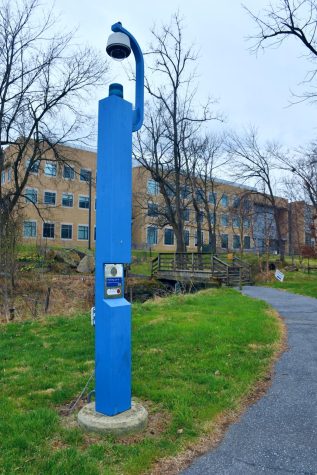 While Huffman only takes night classes, her son Zachary spends more time on campus throughout the day and has noticed places needing safety improvements.
"I do like that the stop signs flash, but [the stop sign in Lot B] does not [and] the way in [to the SET building] doesn't even have [an emergency call phone]," Zachary said.
Ruth and Zachary agreed that the flashing pillars in most parking lots with emergency phones are a safety improvement.
Despite the safety concerns on campus caused by the increased presence of dangerous drivers, members of the HCC community have found safe ways to get around campus without driving.
For students like Siperko, the Café on the Quad is a convenient way to grab a meal without getting in the car. In addition to saving gas, students do not have to navigate through campus traffic to drive to a place to eat.
Regardless of whether they're a pedestrian or a driver, every student and staff member has a job to make sure they obey campus traffic signs. Ultimately, the signs are only helpful if drivers and pedestrians are spatially aware.
Ruth emphasized the need for effective warnings and signs, proposing to post them throughout campus to remind drivers and pedestrians to look out for one another and remain safe.
"Please drive slowly," she urged. "We value our students and staff."