A Look Into HCC Theatre's Spring Production
HCC theatre's production of "PUFFS" offers a unique take on the underdog story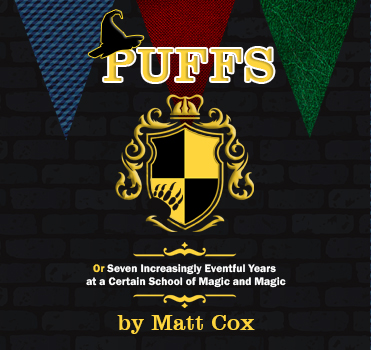 The spring 2022 semester is about to end, and with it comes Howard Community College's final theatre production of the school year.
"PUFFS," or "Seven Increasingly Eventful Years at a Certain School of Magic and Magic," is a play written by Matt Cox "for anyone who has never been destined to save the world." Set to premiere at HCC on May 12, this alternative spin on the underdog story is well worth the wait.  
The play takes place in a similar universe as the Potter franchise, following the perspective of a group known as the Puffs. Named after a familiar house of magic, these earnest students navigate what it means to be the main characters of their lives while serving as background characters in the lives of others.
"A fun, fantastical ensemble show filled with magic, adventure and joy," "PUFFS" concludes the school year with a bang. Combined with its familiar influences from the work it parodies, the production incorporates surprisingly heartfelt moments with its comedic content. 
Jenny Male, the director of the HCC production, explained that "the play, which is in most places really funny and [develops] quickly," has its share of moving moments that are "sometimes unexpected because there is so much … slapstick comedy within it."
While the play runs slightly under 2 hours, its plot spans seven years, which made it challenging for Male to make sure all plotlines were covered in a short amount of time. "It's definitely a project as far as putting all of that staging together," Male explained, "because … these [performers] live [a big part of] characters' lives in one show."
The whimsical and action-packed production features characters such as Cedric, the leader of the Puffs, as well as Leane, a Puff who switches from unbridled enthusiasm to pure terror at the drop of a hat, and others as they live out their years sidelined at Hogwarts School of Magic and Wizardry. Audience members are encouraged to dress up in colors or costumes that fit any one of the four Hogwarts houses.
The seating will comprise four sections, with each representing a Hogwarts house. Male also mentioned that the audience can participate in the show, which isn't done often in HCC productions. Led by casted house members in the audience, viewers can respond in certain scenes as members of whichever house their section represents.
The director also warned that the show does contain mature language and themes. "It is, again, seven years for them," she said, " [and] maturity grows as the piece goes on."
"PUFFS" will show at the Smith Theatre at 7:30 p.m. on May 12-14 and at 2:30 p.m. on May 15. Tickets can be purchased online, in-person at The Horowitz Center Box Office or over the phone at 443-518-1500 (extension 0). 
General admission tickets cost $15, but students and HCC employees and faculty can get them for $10 with a valid HCC ID. On top of that, anyone who uses our exclusive code "HCCTimes" will get an additional $2 off their tickets. The code can be applied regardless of how tickets are purchased.
HCC's final theatre production of the semester gives audience members the chance to see familiar events from the beloved Potter franchise come to life through the Puffs' eyes. As Male confirmed, "for many of [the audience members], they're coming to see a show where they can catch references to movies and books about a certain boy wizard from another series. And they're looking to see the similarities."