Voter Guide for the 2022 Midterm Elections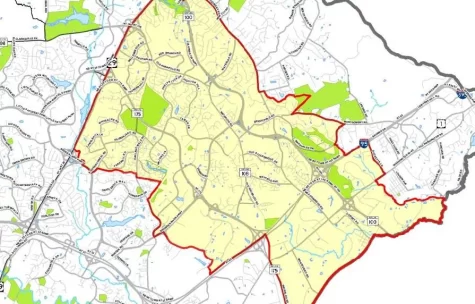 It's that time again: midterm elections. Have you decided who to vote for yet? Since Howard County has three districts (2, 3, and 7), this candidate overview is based on the largest district in Howard County, District 2.
County Executive
Allan Kittleman
Kittleman's main priority when it comes to education is adding SROs (Student Resource Officers) to middle and high schools. Kittleman is endorsed by Donald Trump. Kittleman wants to cut taxes in attempt to make living in Howard County more affordable.
Calvin Ball
Ball has pledged to provide funding to HCC and help the economy of Howard County in general. Ball's mission is to develop Howard County into a place where small businesses can grow and corporate companies can innovate and integrate themselves within the county and find more employment for residents.
County Council
Sheila P. Jennifer
"In 2017, Governor Hogan appointed me to the Maryland Commission on African Affairs where I continue my advocacy and commitment to community building," Republican Sheila P. Jennifer says on her website, where Jennifer cites the former governor. Jennifer's website does not list any endorsements.
Opel Jones
Opel Jones is the current District 2 Council Member and is running for reelection. Politically, he works with the Democratic Party. Otherwise, his main pursuits are in education, computer sciences and authoring books. He also served as Second Vice President of the Howard County Democratic Central Committee as well as Human Rights Commissioner for Howard County. Right now, he serves as a faculty member at Towson University. Jones's website says the following about education: "With over a decade of experience in higher education, Jones wants Howard County students, from Pre-K through 12th grade and beyond, to have the best educational experience imaginable."
Governor
Dan Cox
Dan Cox is the Republican running for Governor in this midterm. His website presents him as a Constitutional reformist, someone who sees the constitution word for word and wants to bring it to life. He also wants to "remove critical race theory (CRT) from schools." In Deja Grissom's HCC Times article, "Why Critical Race Theory is Important in American Education," Grissom defines CRT as "the analysis and study of race within the study of law and liberalism." All of Cox's endorsements are made by either Republicans themselves or Republican-backed businesses.
Wes Moore
Wes Moore is the Democratic candidate running for governor. Moore wants to see progress in teachers, paraeducators and Education Support Professionals (ESPs), as well as the students themselves. Moore wants students to be ready for entry-level jobs by the time they leave out of K-12 schools while still prioritizing social and emotional wellbeing. Highlighted in his book, Moore aims to combat the school-to-prison pipeline, which, according to the School Of Education, is the practices and policies that place students of color into the criminal justice system. Moore's website says that "true equity and social justice goes beyond the criminal justice system." For example, Moore says that he will improve the lives of LGBTQIA+ people by reducing adversity and harassment. Moore says the same for people with disabilities.
Comptroller
Barry Glassman
Barry Glassman is fiscally responsible for county budgets. Glassman has over 30 years of experience in politics as the Executive and a Council Member for Hartford County, as well as a Senator and Delegate for Maryland. He is also a member of the Senate Finance Committee. Glassman says, "Maryland's budget is nearly fifty-billion dollars. As your Comptroller, I will hold the State accountable for spending money responsibly and in your best interest." Hogan, the Maryland State Farm Bureau and the Maryland State Fraternal Order of Police have endorsed Glassman.
Brooke Lierman
The first page of Lierman's website is attention-grabbing. "Lierman is a mom, civil and disability rights attorney, accomplished state legislator and community advocate. She's running for comptroller to champion policies and pursue partnerships that ignite economic empowerment, equity and resilience." At least one of these qualities will stick out to you—positively or negatively—that is. Lierman has experienced a lot in her political career, including current membership on Ending Homelessness and the Oversight Committee on Pensions. Lierman has played an active role in helping those in need during the coronavirus pandemic. Lierman has been working as an activist in Maryland since 2012.
Attorney General
Michael Peroutka
Running Attorney General has his own slogan: "Liberty forever, mandates never." This slogan caters to a libertarian audience as it speaks of fewer mandates needing to be put in place and all civil liberties given to the people. From a COVID-19 perspective, this could be seen as not needing to wear a mask or preserve social distancing measures. If you like Cox, you will like Peroutka as he is a constitutionalist, endorsed by Cox and many other Republicans.
Anthony G. Brown
When it comes to equity and justice, Anthony Brown has been a federal and local activist. Also, Brown cares about the welfare of Maryland's citizens. Brown created the False Health Claims Act to prevent fraudulent healthcare scams. Brown started his practice serving at the Maryland bar since 1994. Attorney General Brian Frosh, along with many members of the Maryland General Assembly, endorsed Brown. Brown cares about voting rights and is pro-choice. Brown wants to protect the natural and interpersonal environment and supports Black Lives Matter.
U. S. Senate
Nnabu Eze
Republican Senator Nnabu Eze is very active on social media. While he does not post much himself, Eze shares posts about ideas he likes from people and organizations he likes. For example, one post by Chad Riley shared pro-life ideas and the idea that global warming is a human problem. Earlier this month, he had shared a post from The Turning Point, a right-wing minimalist government organization. Not much can be said about his endorsements since he keeps a low profile.
Chris van Hollen
Chris van Hollen—according to his website—is "our senator." Van Hollen is active in the fight for social justice. Van Hollen has been working in the political field for over a decade. As well as social justice, Van Hollen cares about the environment and the economy. His campaign is endorsed by Amalgamated Transit Union: American Federation of Government Employees, Brady PAC and many others.