The 2023 Oscars Overview
A look at what's coming to the red carpet, what's happening around it and where to watch it all
2022 was actually the year I first returned to movie theaters since the pandemic struck. The last film I saw before it struck was "1917" in very early 2020, and the only movie afterwards I watched in cinemas was "The Batman." This turned out to be an opportune time to return, I'd argue, as 2022 turned out to be a fantastic year in films. Plenty of films, big and small, with plenty of great concepts and execution. Even the weaker films of the year were at the very least entertaining.
And so now, the Oscars return to recognize these achievements, whether or not the public at large may agree with them. And as such, here's a rundown of what's happening at this year's Oscars, the talk surrounding it, my own thoughts as well as a list of where to watch some of this year's film nominees for yourself.
What's on the Red Carpet
The 95th Academy Awards were announced last month and will be held and broadcast March 12 at 8 p.m. EST. Awards will be handed out for films and their makers for acting, filming, writing, designing, etc.
Among the big award-takers from the past year are "Everything Everywhere All at Once" with 11 Oscar nominations for 10 potential wins, including Best Picture. The recent German adaptation of "All Quiet on the Western Front" by Netflix and the Irish dark dramedy "The Banshees of Inisherin" follow close behind at 9 nominations total for both, also including Best Picture.
This year, Jimmy Kimmel returns to host the Oscars for a third time. The talk show host last hosted the awards in 2018, and will also be the first solo host since then as well, with prior Oscars having either no host or co-hosts. The awards ceremony will also feature a number of presenters and performers. Recently, the Academy of Motion Picture Arts, which hosts the Oscars, announced Rihanna would perform "Lift Me Up," her original song for "Black Panther: Wakanda Forever" for the Oscars, soon after her Super Bowl Halftime performance.
Talk Surrounding the Awards
Last year, actor Will Smith slapped Chris Rock over his comments on his wife, spawning numerous discussions and memes on the incident. While Will Smith resigned from the Academy and apologized following "the slap," the incident still lingers in many peoples' minds. Recently, CEO Bill Kramer of the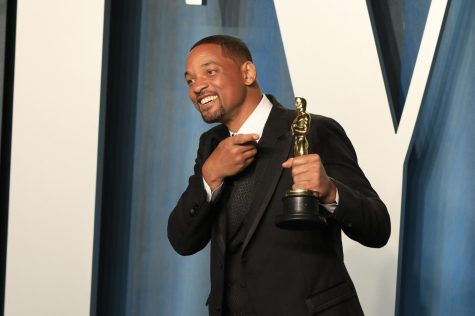 Academy told Time Magazine that a "crisis team" would be added to the ceremony to handle any future incidents. Jimmy Kimmel himself poked fun at the incident in a trailer send-up of "Top Gun: Maverick" which announced his hosting, remarked as "unslappable" within it.
But the more serious and pressing controversy around this year's Oscars has been around the Best Actress category, which many described as a heavily competitive category this year. Among the nominees for this year is Andrea Riseborough, an English actress, for her role in "To Leslie," an indie drama which only grossed over $27,000 at the box office last year. Despite the film being largely unknown, Riseborough unexpectedly managed to gain the nomination, possibly in part through campaigning—not an uncommon tactic for the Oscars and other industry ceremonies.
The surprise nomination has lead to a wave  of discussion and debate on the matter. Some have argued it as an instance of racial bias, as Viola Davis and Danielle Deadwyler, black stars of "The Woman King" and "Till" respectively, were notably left out in spite of their films' wider success and equal critical standing. Deadwyler herself and the film's director, Chinonye Chukwu, directly accused the Academy of this, with the latter taking to Instagram saying, "We live in a world and work in industries that are so aggressively committed to upholding whiteness and perpetuating an unabashed misogyny towards Black women." Others have accused Riseborough of potentially violating regulations that prevent certain forms of campaigning.
The Academy has given no comment on the controversy so far. However, it did conduct a review on its procedures to see whether there were any violations, to which no issues were found following its conclusion.
Where to Watch the Movies
The following are the movies which were nominated for an Oscar, in one form or another, as well as other noteworthy movies which missed nominations, whether by public consensus or my own. Most of the movies can be found to rent or buy on major streaming services such as Amazon Prime Video, YouTube, Google TV, etc., or purchased on home video unless noted as otherwise.
Best Picture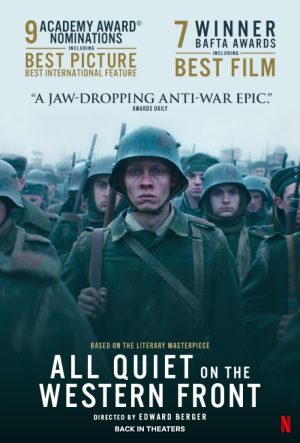 "All Quiet on the Western Front"

An epic adaptation of the classic anti-war novel of a young German recruit in WWI (Alex Kammerer) who faces and is worn by the realities and horrors of the war.
Exclusive to Netflix.

"Avatar: The Way of Water"

A sequel to the record-breaking sci-fi blockbuster "Avatar," soldier-turned-chief of the Na'vi Jake Sully (Sam Worthington) finds his new life on Pandora disturbed by the the return of the RDA, and must work with another clan on the planet to save their home.
Only in theaters.

"The Banshees of Inisherin"

 A dark comedy-tragedy set in the last days of the Irish Civil War, the shepherd Pádraic (Colin Farrell) finds his longtime and only friend (Brendan Gleeson) abruptly cut their friendship short, leading to events that quickly spiral out of control.
Available on HBO Max.

"Elvis"

A biopic on the famous rock star (Portrayed by Austin Butler) as directed by Baz Luhrmann ("Romeo + Juliet," "Moulin Rouge!"), the film tells the star's life from Memphis to Vegas, as framed by his infamous handler Col. Tom Parker (Tom Hanks).
Available on HBO Max.

"Everything Everywhere All at Once"

A speculative dramedy genre stew and surprise indie hit of 2022, a Chinese-American woman (Michelle Yeoh) finds her normal life flipped with the discovery of a multiverse, and learns that she must connect with parallel versions of herself to fight a threat that could destroy it.
Available on Paramount+ or through subscription to Showtime.

"The Fabelmans"

A coming-of-age tale of a boy (Gabriel LaBelle) who falls in love with film and begins to re-examine his life through them. Directed by acclaimed filmmaker Steven Spielberg and loosely based on his own life.
Available only to rent/buy.

"Tár"

Famed conductor Lydia Tár (Cate Blanchett) finds her high profile life and career spiral as claims and her own actions begin to bring her down.
Available on Peacock.

"Top Gun: Maverick"

Maverick (Tom Cruise) returns after a stagnant career to teach and lead one of the latest Top Gun classes on a high stakes mission in this sequel to the iconic 1980s action movie, complete with its own beach scene.
Available on Paramount+, Epix/MGM+ or Philo.

"Triangle of Sadness"

A satire on wealth, a luxury cruise trip turns into a disaster with the social hierarchy flipping on its head in this black comedy.
Available on Hulu.

"Women Talking"

A group of women in a remote Mennonite colony debate whether to fight, leave or do nothing after the abusive men of their community leave for a time.
Available only to buy/rent.
Best Animated Feature
"Guillermo del Toro's Pinocchio"

A loose retelling by Guillermo del Toro ("Pan's Labyrinth," "Hellboy," "Pacific Rim"), the adaptation tells the story of the puppet (Gregory Mann) as he is given life and looks to become a real boy and son of Gepetto (David Bradley), all set against the backdrop of fascist Italy.
Exclusive to Netflix.
"Marcel the Shell with the Shoes on"

A stop-motion/live-action hybrid about the titular walking, talking shell (Jenny Slate) who suddenly becomes famous when he becomes the subject for a documentary filmmaker.
Available only with a Showtime subscription.

"Puss in Boots: The Last Wish"

A sequel to the Shrek spin-off "Puss in Boots," the film follows Puss (Antonio Banderas), down to his last life of nine, as he journeys to find the Last Wish to restore them while competing with others.
Available only in theaters or to rent/buy.

"The Sea Beast"

A crew of sea beast hunters under Captain Crow (Karl Urban) set out to catch a legendary beast to save their livelihood, joined by young orphan (Zaris Angel-Hator).
Exclusive to Netflix.

"Turning Red"

Set in Toronto in 2002, a 13-year-old Chinese-Canadian girl (Rosalie Cheng) discovers she has a curse placed on her that transforms her into a giant red panda when she feels strong emotion.
Exclusive to Disney+.
Best International Feature
"All Quiet on the Western Front," Germany
"Argentina, 1985," Argentina

Based on real-world events, the film follows the Trial of the Juntas, as two Argentine lawyers race against time to assemble evidence to prosecute the former military government.
Exclusive to Amazon Prime Video.

"Close," Belgium

A strong friendship between two 13-year-olds begins to break as others take notice of it.
Only in select theaters or to buy to stream.

"EO," Poland

A donkey from the circus journeys to find its owner, encountering people from all walks of life along the way.
Available only to rent/buy on Vudu or stream on a Criterion Channel subscription.

"The Quiet Girl," Ireland

Set in 1981, a young girl is sent off from her cold family for the summer into a far more caring one, growing along the way while learning more about them.
Currently unavailable to stream or for home video purchase.
Best Documentary Feature
"All That Breathes"

A film following two brothers in India who care for injured black kites bird.
Exclusive to HBO Max.

"All the Beauty and the Bloodshed"

A documentary about photographer Nan Goldin's efforts to expose the Sackler family's role as head of a pharmaceutical company in creating the opioid crisis.
Only in select theaters or to rent/buy.

"Fire of Love"
"A House Made of Splinters"

An examination of the circumstances orphaned children in east Ukraine face, in relation to ongoing conflict with Russia.
Available only to rent/buy.

"Navalny"

A film documenting the events around the poisoning of Russian opposition leader Alexei Navalny.
Exclusive to HBO Max.
Best Live-Action Short Film
"An Irish Goodbye"

A dramedy about two brothers in Northern Ireland who awkwardly reunite after their mother passes away.
Currently unavailable to screen or stream.
"Ivalu"

A young girl in Greenland wakes up one day to find her older sister is missing and sets out to find her.
Available only to rent/buy.

"Le Pupille"
"Night Ride"
"The Red Suitcase"

A teenage Iranian girl at an airport in Luxembourg hesitates leaving the baggage claim area with her red suitcase, fearful of what may come.
Currently unavailable to screen or stream.
Best Animated Short Film
"An Ostrich Told Me the World Is Fake and I Think I Believe It"

As per the title, a salesman learns from an ostrich that he inhabits a stop-motion world, and sets out to convince his coworkers.
Currently unavailable to screen or stream.
Best Documentary Short Film
"The Elephant Whisperers"

A film following a couple in South India who end up taking an orphaned baby elephant into their care.
Exclusive to Netflix.

"Haulout"

A look at a marine biologist in the Russian arctic who sets out to observe a walrus event, with climate change directly affecting it.
Available on The New Yorker's Screening Room and YouTube for free.

"How Do You Measure a Year?"

A years-long effort from director Jay Rosenblatt, as he films himself asking his daughter questions each year from a toddler to a young adult.
Currently unavailable to screen or stream.

"The Martha Mitchell Effect"

A documentation of the wife of a cabinet member during the Nixon administration who spoke out during Watergate.
Exclusive to Netflix.

"Stranger at the Gate"
Films in Other Categories
"Black Panther: Wakanda Forever" (Actress in a Supporting Role; Costume Design; Makeup and Hairstyling; Music (Original Song); Visual Effects)
"Babylon" (Costume Design; Music (Original Score); Production Design)
The Batman (Makeup and Hairstyling; Sound; Visual Effects)
"The Whale" (Actor in a Leading Role; Actress in a Supporting Role; Makeup and Hairstyling)

Available only to rent/buy.

"Living" (Actor in a Leading Role; Writing (Adapted Screenplay))

Available only to rent/buy.

"Aftersun" (Actor in a Leading Role)

Available only to rent/buy.

"Bardo, False Chronicle of a Handful of Truths" (Cinematography)
"Blonde" (Actress in a Leading Role)
"Causeway" (Actor in a Supporting Role)
"Empire of Light" (Cinematography)
"Glass Onion: A Knives Out Mystery" (Writing (Adapted Screenplay))
"Mrs. Harris Goes to Paris" (Costume Design)
"RRR" (Music (Original Song))
"Tell It Like a Woman" (Music (Original Song))

Available only to rent/buy.

"To Leslie" (Actress in a Leading Role)

Available only to rent/buy.
Notable/Personal Mentions
"Armageddon Time"
"The Bad Guys"
"Bullet Train"
"The Menu"
"Nope"
"See How They Run"
"She Said"
"Till"

Available only to rent/buy.

"The Unbearable Weight of Massive Talent"
"White Noise"
"Weird: The Al Yankovic Story"
"The Woman King"