HCC Holds Food Drives to Help Combat Food Insecurity
Helping others in the community who are less fortunate is a classic example of a good deed. In the spirit of paying it forward, the HCC food pantry held its annual food drive March 25 at two Giant locations, Hickory Ridge and Ellicott City.
Student and staff volunteers at both locations explained to people entering the stores about the food pantry needs and asked for donations. HCC students came in and contributed at these local Giant locations.
For example, Orajimetochukwu "Jimeto" Nwafor, who is majoring in communication studies at HCC and works at the Giant in Ellicott City, contributed to the food drive and shared his impression of the event as follows, "It's been my pleasure to help out with the food pantry donations and fundraisers. I also had fun building healthy relationships with the customers coming by."
HCC staff who supported this event also shared their experience. Clinton Neill, Associate Director of Student Life, said, "As someone who volunteered at the drive, I thought it went great!"
The Fueling Dragons Coordinator, Tiffany Holtzman expressed appreciation by saying, "Thank you so much to all of our incredible volunteers for an amazing food drive on Saturday. Because of you, we were able to collect just over 800 pounds of food from the two locations. Hickory Ridge brought in 476.7 pounds while Ellicott City brought in 323.55 pounds. Donors were also very generous with monetary and gift card donations at both locations. However, it's not always about the amount of food collected during a food drive. You made an impact by educating people about our on-campus food pantry. A lot of times a person does not donate the first time they hear about something. It's all about cultivating relationships that can lead to even better things down the road."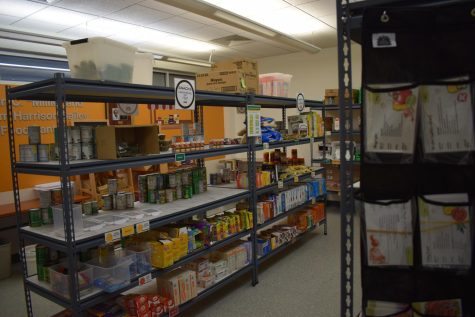 In addition to the approximately 800 pounds of food collected, the event resulted in $665 raised in monetary contributions. All donations will benefit HCC's Fueling Dragons Program, which provides students with resources to overcome food insecurity and acquire lifelong healthy habits and skills.
HCC will be holding another food drive event April 30 at the Giant supermarket in the Owen Brown Village Center at 7200 Cradlerock Way in Columbia, Maryland. The event will be from 11 a.m. to 3 p.m., and the Office of Student Life is looking for more volunteers to help with the event itself and the sorting of donated food after. Students who wish to help give back to the HCC community or need student service hours are encouraged to contact Student Life at [email protected].