HCC'S Drag[ON] Extravaganza was the show you didn't want to miss. From amazing food to even more amazing entertainers, it was an event for all students and members of the community. 
The turnout was great, and lines of people exploring the resource fair that was placed right outside of the theater. The fair – which included the Howard County Council, Community Allies of Rainbow Youth, Howard County Office of Human Rights, and many more – allowed students and attendees to receive local information on LGBTQ+ support. In addition to resources, the fair had some local entrepreneurs such as "The Gay Agenda LLC" (an LGBTQ founded self care business that specializes in candles and body care products,) and "Aurora Clothiers" (a business which doubles as children's entertainment and custom clothing and jewelry pieces.) Throughout the halls, many conversations were going on, and laughter was loud at the photo booth.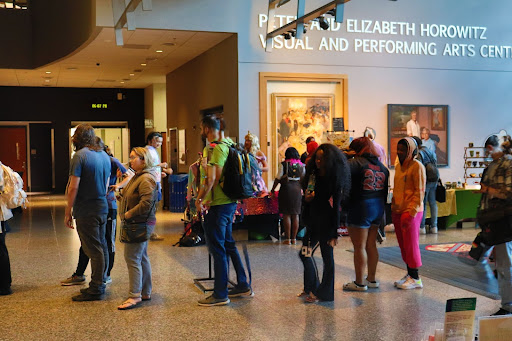 The excitement did not end there. It carried on as doors opened up to the Smith Theater. The crowd, consisting of faculty and students in unique and creative outfits, was pumped – the music was loud, and everyone was ready. After going over some house rules, the theater went dark. The theater lit up in purple, and the one and only King Molasses, host of the evening, appeared performing their heart out. King Molasses, who was voted DC's 2023 Best Drag King by the DC Drag Awards, did an amazing job at engaging with the audience and getting a few laughs out of them. Shortly after, the next performer, Washington Heights, was up. If you consider yourself a part of the Rihanna-Navy or missed the Super Bowl halftime show this year, this was the performance for you. Washington Heights, who is a Baltimore native, left everyone stunned; when the spotlight hit them, we saw a replica of the iconic red oversized jacket and high ponytail look Rihanna had at the Super Bowl.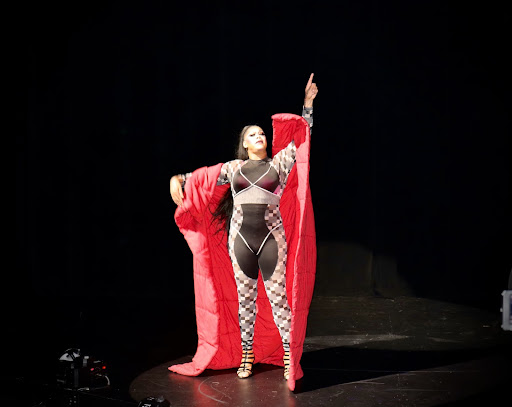 Ms. Heights went right into singing and dancing to the setlist of Rihanna's Superbowl performance. The crowd was stunned and speechless, but most importantly, the crowd was served. Once Washington Heights exited the stage, we had none other than Baltimore's entertainer of the year, "Motha" of "House of Chloe" – Kayden Amore Chloe. Ms. Chloe gave us a jaw-dropping show where her performances mirrored Beyonce's Renaissance tour, from the dance moves to the setlist. Kayden Chloe even let the audience participate in what I'm calling HCC'S first Mute challenge.
Story continues below advertisement
After Kayden's performance, we had Domingo. Domingo, in honor of Hispanic Heritage Month, performed to Latin singer Ana Gabriel's hit song "Quien Como Tu." This dramatic performance had the audience feel Domingo's pain of loving someone. While both younger and older audience members enjoyed this performance, given that this song is from the late 80's, the older generation takes the cake for passionately singing and interacting with this performance.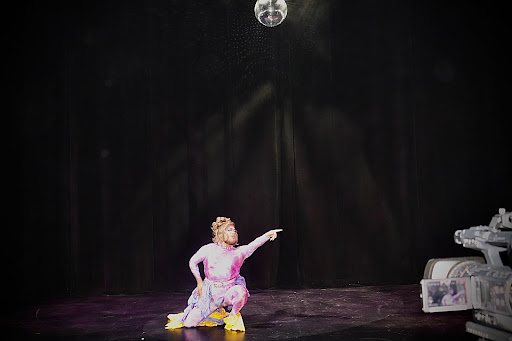 The show was then about to come to an end, but it couldn't have been a Drag-on Extravaganza without HCC's very own Stelya-Mane Blue. Stealya gave us a chilling opening with strobes and flashing lights, and went on to give us an amazing dance performance to Chlöe's hit song "Have Mercy."
After Stealya's performance, the show came to an end… or so we thought.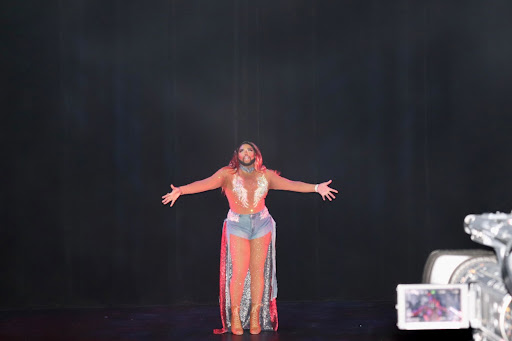 Soon after, King Molasses informed the audience that there is one more performance left, and the performer would be us, the audience. Molasses picks on about nine guests in the audience to join them on stage. Once on stage, the audience members were informed that they would participate in a competitive catwalk. They were given props, such as wigs, and the performance began. 
It was amazing – many of these students had a natural bone in them to serve us their looks and walks. While everyone did amazing, the audience members could only pick one winner, determined by their cheers. The theater was loud as everyone cheered for their favorites, but the winner was clear; the winner of the 2023 Drag[ON] Audience-led competition was audience member Sandra, who won a fan (from Amazon, of course.) After a long night, the performances were over, but the event did not end without a Q&A. 
In the Q&A, the drag queens and king were all asked questions submitted by audience members. Questions included the expenses of drag (which we found out was very pricey), how drag can be a business, and who some of the performers' inspirations were; for drag queen Domingo, it was their mom. Before the night ended, many of the queens stood outside the theater and had meet & greets with students who wanted to interact. Overall, it was an eventful, fun, and successful night.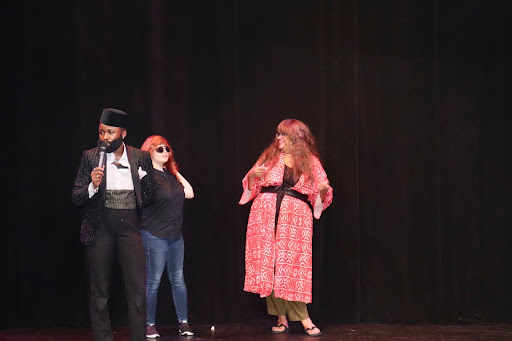 It is important to note that this event took place in October, since October is LGBTQ+ History Month. The drag and LGBTQ+ community has come a long way for shows like these to be acceptable in a place like school. The performers hinted that there could potentially be a 3rd show occurring in October of 2024, so if you are in town around this time, I would highly recommend you join in this amazing show!