After a long stressful day at work, you finally head down the office building stairs. Pulling out your phone, you click a button, automatically heating and warming your car. Pushing another button you wait on the sidewalk as your car slowly pulls out from the parking spot and drives towards you. The doors unlock and await your immediate arrival. Getting in, you put in the address for a bar a couple of blocks away. The car chimes and an automated voice declares the destination. You recline the seats to your liking and lay back for some rest while the car drives away. 
A scenario that seems sci-fi enough has already displayed itself as a reality within our society. In fact, almost all of those futuristic options have become realized in recent years. Yes, while finicky, the electric cars of today can warm and heat from a button on your phone, drive to you in a parking lot, and drive themselves. 
Story continues below advertisement
Electric vehicles (EVs) have become centralized within the car industry. Its profusion has left almost every car company trying to adapt to the changing times and keep up with the market demand. Several companies that were once the prime image of muscle gas-powered cars have shifted to this new era in transportation. Ford, Chevy, Mercedes, Audi, BMW, Porsche, and Ferrari are among the many car brands to opt for a more inclusive EV assortment of vehicles. 
While there's a long wait before most cars become electric, it's important to note the quick pace at which it has taken over.  In upcoming years, the car industry might completely shift from what we're used to. In this gravitating change, we can expect to see new car brands proudly displaying the "EV" title while older car companies receive new tech improvements. 
According to Protocol.com, the sale of electric vehicles is expected to rise by nearly 47% by 2030. By 2035, those sales could be 68%, taking over almost the entire market of cars sold. The current uptick in electric and hybrid cars has only been projected to rise every year. Despite a vast majority of car sales currently being gasoline-powered, there's a definite market and popularity amassing around these EVs.  
One of the best examples of how far car companies have taken electric vehicles is none other than Afeela, Sony and Honda's tech car collab. This car, while still in its early phases, is the ultimate dream car for any tech enthusiast. Most Teslas use a level 2 self-driving automation technology. A level 2 means there's self-driving, however, both hands need to be at the wheel. Afeela on the other hand, has level 3 self-driving automation. This means the car will fully operate by itself and not need a driver's hands on the wheel. 
Besides the self-driving mechanisms, the car displays a large number of other features. According to TechCrunch.com, the car has 45 sensor arrays and cameras, a large panoramic display spreading across the entire front interior, smaller screens for backseat passengers, Sony's 360-degree sound system, and the ability to play games within the car, to name a few.
These features create a wide array of comfort and pleasure for the passengers. While this car stands out for its interesting technological features, other cars have already caught on. For example, BMW's new i7 electric sedan features an LED roof, different ambient modes, massaging seats, and a large 31.3 inch 8k touch screen TV in the back for viewing. Afeela won't release for a couple of years; however, the new BMW i7 is already on the market.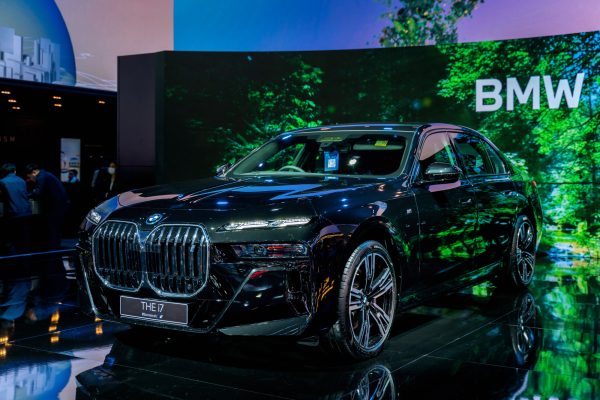 These tech electric vehicles have already started being released onto the roads. With the outstanding amount of features embedded into the cars, more people are switching to the EV side. However, conservative car enthusiasts who are strongly against the tech-sprawled electric cars of tomorrow have critiques. Many claim the electric vehicles' high price, long charging times, and overall feel ruin the car economy. With many car companies switching to the EV side of things, less expensive gas-powered cars could disappear. The aggressive nature and popular style of gas-powered vehicles have left many loyal customers angry with how car companies have abandoned the types of vehicles that brought them to fame in the first place. 
Despite the back and forth, it's no doubt electric vehicles will become common in our society in the future. Its imminent change could drastically shift our society, and the environment, for the better. As decades pass, we could see an extinction of gasoline-powered vehicles altogether. Whether or not you agree, it's best to stay prepared for vast changes looming over the horizon.