The Clubs at HCC's Core
Clubs, Family, and Thanksgiving
Thanksgiving is a treasured holiday in American culture. It is the only holiday in the world that is purely American. But, when you take the word "thanksgiving" apart, it gives us two words. One is "thanks", which everyone partakes in offering on Thanksgiving-for food, shelter, fellowship, you name it-but the other word is "giving", which doesn't get talked about nearly as much. There are many clubs, groups, and organizations around campus that focus on giving back to the community. Like the Student Program Board, which puts together events that contribute fun and fellowship to the HCC community.
But another club that often can be overlooked that also serves the community is Agape. Justin Chao, the co-leader of the group, shared that their group focuses on God and fellowship in that respect, as they provide service to HCC through "tabling events" as well as Bible study. "'Agape is actually Greek for God's unconditional love and as Christians, giving really begins there.", Chao said. "When we experience and are filled with…love [of God], then we have something to give to others." This is why Bible study is such a large component of the group, as being closer to God will make them more willing to serve others in the wider community, like volunteering with several organizations in the area. Through God's unconditional love, the Agape team feels a sense of community within HCC and the wider population of Columbia, MD. But what does giving and community really mean, anyway? The Merriam-Webster Dictionary defines community as "a social state or condition". In HCC, this social state means that there are many events going on around HCC every day meant to foster community.
Just recently, on November 6, the SGA hosted a 50s style "Dragon Diner" event, where diner food was served and jukebox music was played. This event gave students something to look forward to amidst the monotony of classes, exams, and homework. Another example of breaking the monotony was the Halloween Party on, you guessed it, October 31. Complete with food, carnival games, and a costume contest, this event was a much talked about event among students. And the Student Program Board was responsible for nearly all of it. Another credit for service and community has to be given to the Honors Programs at HCC. In the Rouse Scholars program in particular, students are required to perform service outside the community, at least once every semester. For example, the Rouse Scholars program has been learning about environmental degradation, which has harmed, among other places, the Patapsco watershed. The group has been focused on using interdisciplinary learning to brainstorm solutions to this problem. This connects back to giving and community because the Scholars are learning how to take care of their community, and are learning about ways to save the environment. In the end, the various programs and clubs have devoted at least part of their mission to giving back to the community. As Justin Chao said about Agape, "As Agape Christian Fellowship at HCC, our heart is to simply be a community where we can love God and love others." If we can do that and treat one another with common respect, then we have succeeded in creating a community as Howard Community College.
Leave a Comment
About the Contributor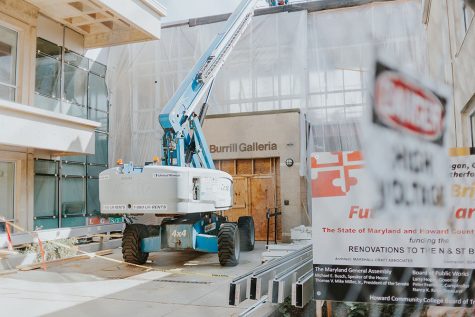 Molly Lea, Writer
Molly Lea was a member of The HCC Times staff from 2017-2019, publishing two articles throughout her tenure. Her first article discussed the 2018 renovation...