The Amazonification of Whole Foods
Effects of the Acquisition on the Local Level
Have you been taking back to back Summer semester courses? Maybe traveling abroad? Or just plain too drained from this humid and rainy Summer we've endured? Those would be reasonable excuses to be oblivious to the recent acquisition of Whole Foods by tech giant Amazon. Owner Jeff Bezos has received public admiration, condemnation, and everything in between with his net worth skyrocketing him in to a league of his own and solidifying his position as the wealthiest man in the world. With all this buzz around the growing company's new venture into the grocery world the question looms- what does this change mean for us, the consumers?
As college students, we have the opportunity to cash in on a seriously discounted membership to Amazon Prime, granting us a total VIP access for the Whole Foods shopping experience. With the merger effects in full swing, you may have noticed our beloved Columbia Whole Foods is donning new signage indicating hefty price reductions for various items from produce to dry goods to hygiene products. All you have to do is look for the yellow Amazon Prime Membership signs and proceed to loading up your cart with all your heart desires!
Once in the check out lane, it's time to complete the final action of being in the Prime club: scanning your app for eligible purchases. As the transition kicked off, you were granted some leeway in not having downloaded the app just yet, but now with things in full swing, you're pretty much expected to slide over the phone and show your QR code to the cashier to keep things moving swiftly.
Amazon is known for technological innovation; so what other sort of digitally enhanced changes are to be expected other than the implementation of the Prime App? Well, during initial talks of the merger, rumors were flying about the possibility of Whole Foods going in the way of Amazon Go; Seattle's first grocery store sans cashiers. This would certainly cause an uproar being that many Whole Foods employees would be jobless. But this notion was proved to be just a rumor, and Bezos has confirmed that he does not intend to forego cashiers in Whole Foods locations. Rather, he plans to use warehouse space in the newly acquired Whole Foods locations to streamline distribution for Amazon.
One new technologically upgraded feature of Whole Foods is the launch of home delivery! Bezos has struggled with Amazon Pantry and the venture into the grocery world means competing with Peapod and alike for those consumers who desire top quality food with the ease of home delivery. You simply order online and receive your order at your doorstep!
It's certainly not all sunshine and roses for the Whole Foods employees who have seen their duties through the merger. The implementation of a new inventory system is said to have crushed morale, demoralized staff members, and made them fearful for their jobs. This is something that as college students we should be particularly mindful of. Education is our means to work beyond minimum wage jobs, but for many of us, earning a paycheck while attending college is important; and we must demand fair treatment for workers in all rankings.
If you haven't already, take a walk around the Columbia Whole Foods and see what changes you notice!
View Comments (1)
About the Contributor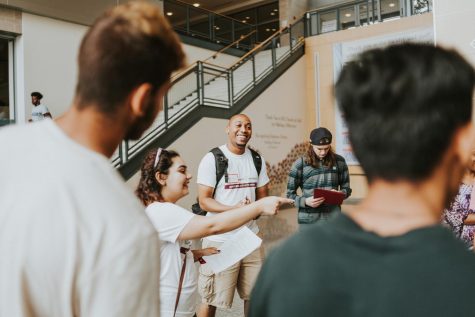 Amie Daniel, Writer
From 2018-2019, Amie churned out a whopping 20 articles for The HCC Times. Don't know where to start? Check out Amie's article "Making C.E.N.T.S of Your...