Letter from the Outgoing Editor: 2020-2021
My time at The HCC Times has been riddled with unexpected joys, challenges and growth. I joined the newspaper almost immediately after the COVID-19 pandemic shuttered HCC and have only ever worked from home. I mourn never meeting the newspaper staff face-to-face, all the free food supplied by Student Life that I never got to eat, and, of course, the heartbreakingly convenient newspaper parking spot I never had the opportunity to park in. 
Still, being an editor is much more than having a reserved parking spot. It is sharing your overwhelming love of dashes and learning to accept that not every article needs to include one. It is watching young writers grow into accomplished, award-winning journalists. It is pulling out your hair as you attempt to get a sentence just right. 
Running a newspaper is also about more than just grammar and article structure. The HCC Times, like all of America, has grappled with societal issues and injustices over the last year. We have struggled over how to best mirror our community and elevate student's voices. Of course, we are not perfect, but columns like Deja Grissom's "The Great Liberator" and the tireless work of student journalists, such as Amira Cooper and Marcus Chewning, have helped us speak more compassionately and reflect our college more completely.
It is hard to believe how far the HCC Times has come. The transition from a print newspaper to a nearly dead newspaper to the vibrant online paper we are today was difficult, but it was necessary. We have now had six articles published on the "Best of SNO" website and been recognized as a "Best of SNO" site. We have begun publishing a weekly newsletter that now reaches over 100 people every week. We expanded our writing team, hired four new staff members, and co-hosted two events with the Student Programming Board and Student Government Association.
Without Schnell Garrett, Darrien Wilkins, Helen Clark, Kourtney Douglass, and the whole Student Life team The HCC Times would not exist. I am endlessly grateful to all of these people. 
The HCC Times is in a beautifully critical phase of development and the thought of leaving is devastating. Still, as much as I love HCC and The HCC Times, I know it is time for me to graduate and leave for university. I could not have hoped for a better team to carry on our paper's good work. With Thelma Bush as the Student Life liaison and Erin Nunnally as the faculty advisor, The HCC Times has all the backing we could dream of from the college. 
To J'Pia Isbell, our administrative assistant — thank you for making sure we answer emails and promote our content, without you that would never have gotten done. I am so excited to see your advertising campaign next year and know you will do incredible things.
To Esha Bhatti, our content strategist extraordinaire — you have all the people and organizational skills I wish I had. Together, we made an epic team. You have grown tremendously since you started as content strategist and I know you are thoroughly prepared to lead the paper. You will push The HCC Times to new heights of fabulousness with your tact, humor, and use of the phrase "cool beans".
To Tanner Malinowski, our new editor-in-chief — I know the paper is safe in your capable hands. Our jobs will look very different — mine fully remote and yours (fingers crossed!) fully in-person. Still, I think our goals are the same. Remember that this is about writer's growth, not perfection. Remember that it is better to publish a great story in a week rather than a mediocre one today. Remember to always read an article one more time to make sure you are not haunted by an embarrassing screenshot for the rest of your life. 
You are going to do incredible things for The HCC Times and HCC as a whole during your tenure. All I ask is that you continue to use dashes — although perhaps not as many as I have used in this letter.
All the best,
Rebecca Nason
Editor-in-Chief
View Comments(1)
About the Contributor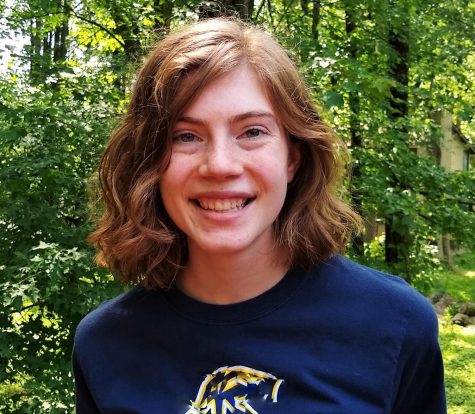 Rebecca Nason, Editor
As editor-in-chief from 2020-2021, Rebecca Nason played an integral role in crafting The HCC Times into what it is today despite having to operate off-campus...