Troy Kotsur Becomes First Deaf Actor to Be Nominated for an Oscar
On Feb. 8, 2022, Troy Kotsur became the first Deaf actor nominated for an Academy Award in the ceremony's 94-year history.
Kotsur, who is nominated in the Best Supporting Actor category, stars in the movie "CODA" alongside Marlee Matlin. It was 35 years ago that Matlin became the only Deaf actress to win an Academy Award. Matlin took to Twitter to express her excitement that "FINALLY another Deaf actor" has been nominated for an Oscar.
"CODA," which stands for "Child of Deaf Adults," tells the story of Ruby Rossi, whose passion for music takes a backseat to her role as interpreter for her deaf parents. Kotsur plays Ruby's father, Frank. "CODA" is also the first film featuring an almost fully-Deaf cast nominated for an Oscar in the Best Picture category.
Historically, most roles portraying disabled characters have gone to able-bodied actors, which disabled actors hope to change. "Nothing about us without us," has become the slogan for disabled actors demanding equality in casting, urging directors to recruit disabled actors to portray disabled characters. 
Kotsur's role in "CODA" draws inspiration from the Deaf community and gives actors with disabilities hope that more opportunities will emerge for them to portray characters with shared abilities and experiences. As the push for disability inclusion in the film industry intensifies, theatre companies seek to create roles tailored for artists like Kotsur and Matlin. Inclusive casting is a practice that has been catching on, creating new opportunities in the performing arts field for performers of all abilities.
It is equally important to see disabled actors in roles that do not feature disability. In 2019, Ali Stroker became the first actor in a wheelchair to win a Tony Award for her role as Ado Annie in "Oklahoma."
And in a recent production of "Beauty and the Beast" at the Olney Theater in Olney, Maryland, Evan Ruggiero, an amputee and tap dancer, starred as the Beast. Speaking to The Washington Post, Ruggiero feels that "it's very important for kids to see actors with differing abilities and different body types onstage playing these roles."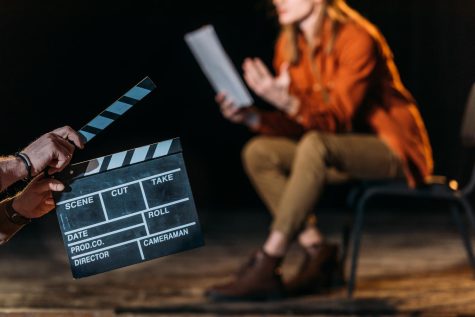 As for Kotsur, it has been a long journey from being diagnosed as deaf at nine months of age to being considered for the movie industry's highest honor.
He became passionate about theatre while attending Phoenix Day School for the Deaf before studying acting at Gallaudet University in Washington, D.C. From there, Kotsur toured with the National Theatre for the Deaf, which launched his career on stage and television.
In an interview with the L.A. Times, Kotsur stated that "it's a tough journey as a Deaf actor," and urged Hollywood to continue breaking inclusivity barriers.
And it seems that Hollywood is listening.
In his next role, Kotsur will be playing the leader of a deaf track team in "Flash Before the Dark," a film based on a true story.
Kotsur hopes his success encourages Deaf children to consider a career in theatre. During his speech at the 31st Annual Gotham Awards, Kotsur told the audience, "I hope that young people who happen to be deaf or hard of hearing can get an increased confidence and be inspired that they can pursue their dreams. I want those kids to not feel limited."
Leaders in the performing arts community must continue working to strengthen the bonds between theatrical development and the disabled community. Kotsur's story is an important example that can positively influence the attitudes toward casting not only Deaf artists but also those with other disabilities. The goal is to ensure that playwrights and directors become aware of issues regarding accessibility and prioritize designing roles for actors of different ability levels.
The Academy Awards ceremony will be televised from Hollywood on March 27 at 8 p.m. EST.