Have You Thought About Space Lately?
In recent months, we have watched people such as entrepreneur Jeff Bezos and "Good Morning America" co-anchor Michael Strahan go up into outer space.
Additionally, on Jan. 8, NASA's James Webb Space Telescope continued its historic space exploration mission to search for exoplanets and distant galaxies.
The increased exploration of outer space has captivated the public and has created a desire to learn more about outer space. While they may not have access to rockets or NASA-grade telescopes, students at Howard Community College can still explore outer space without leaving campus.
HCC's Science, Engineering and Technology (SET) building provides students the opportunity to learn about and explore outer space. You read that correctly — from a location on our campus, you can learn about and explore outer space.
The SET building serves as the site for astronomy classes and Astronomy Club meetings.
Astronomy classes incorporate various disciplines, such as mathematics and computer science, and encourage students to utilize critical thinking and problem-solving skills. These classes equip students with the skills needed to work in both public and private sector jobs ranging from the medical, defense, technological and environmental fields, to name a few. Along with taking astronomy classes at HCC, students can join the Astronomy Club to enhance their understanding of outer space.
The Astronomy Club hosts private and public events outside of the classroom. One of these events is observation night, where you can observe the night sky by looking through high-powered telescopes. You can move from one telescope to the next and experience a different view with a different size lens. Club members are happy to answer any questions visitors have.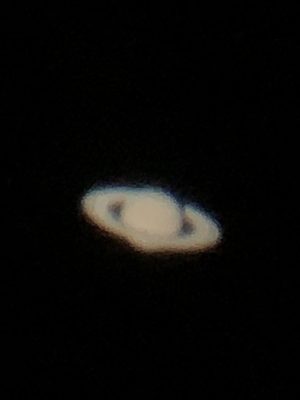 A clear sky provides the best viewing experience. You might see planets, star clusters or gaseous nebulae. Though rare, you might also get to see a comet or even a distant galaxy such as Andromeda. Anyone can attend observation nights open to the public by emailing HCC associate astronomy professor Dr. Brendan Diamond to request access to the restricted viewing area.
The current president of the Astronomy Club, E. Highland, mentioned there are opportunities to watch live footage of rocket launches. The club also organizes several astronomy-focused tours of venues like the Smithsonian Air and Space Museum. To learn more about the club and how to join, contact Dr. Diamond.
So, space exploration is not reserved for Jeff Bezos or Michael Strahan, after all, as HCC offers an excellent opportunity to glimpse into outer space, socialize and learn more about outer space from campus.
Whether you enroll in an astronomy class, join the Astronomy Club or attend a public event hosted by the Astronomy Club, you will undoubtedly gain hands-on experience and get an up-close-and-personal look at outer space. The exciting opportunities at HCC to learn about and explore outer space are out of this world!