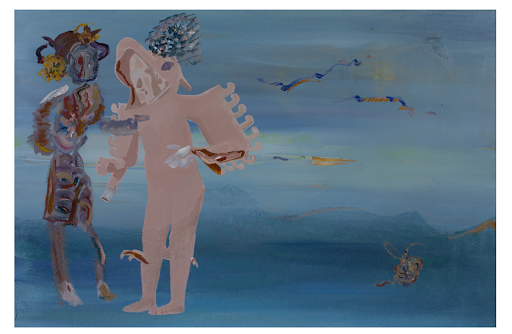 On October 10, 2023, Hispanics at HCC from all walks of life came together to showcase great pieces of art and culture for Hispanic Heritage Month. In addition, there was also a panel discussion.  Panel members Alfonso Fernandez, Adam Bencomo and Alanna Rivera discussed their backgrounds, what their art means to them, and how it shaped them to become the people they are today. 
Alfonso Fernandez is currently an adjunct art professor here at HCC, a position which he has held since the fall semester of 2017. He was born in Mexico City, Mexico, and attended the University of Minnesota – College of Liberal Arts in Minneapolis, where he earned his Bachelor of Fine Arts in Painting and Printmaking in 2013. Three years later, Fernandez earned his Master of Fine Arts from the LeRoy E. Hoffberger School of Painting at the Maryland Institute College of Art (MICA). Fernandez's work generally revolves around social, psychological, and personal investigations. Since he moved to Baltimore, his work has been focused on life in a new city and the hardship that comes with moving to a new place, all of which is based on his experience of moving from Mexico to the US. He also touches on social and political issues in his artwork.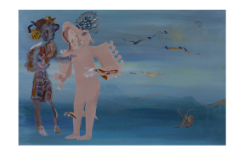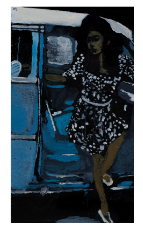 Fernandez shared his art background with the HCC Times:
Story continues below advertisement
Why did you choose to be an artist?
"I wasn't really good at Math and English, but I was really good at being creative. I decided to become an artist because of my ability to be creative."
Do your works comment on contemporary social or political issues; how?
"My work touches contemporary social and political issues.  For example, I painted this picture called "Hunted" that addresses the ongoing issue of the US-Mexico border crossing and how we as people would feel about people crossing the border."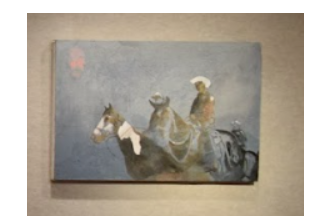 What's your favorite artwork, and why?
"My favorite artist is Wilhelm Sasnal, a Polish artist whose work is known for showing an unsettling portrayal of our collective surroundings. His paintings inspired me to paint about both social and political issues.  My favorite work from him is 'Palm Bay' which describes immigrants from Somalia going to Europe on a boat carrying two dozen of them."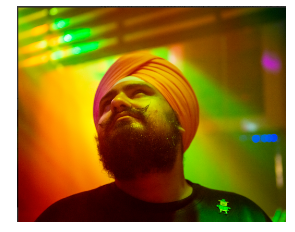 Adam Bencomo, another member of the panel, is a photographic artist in Baltimore, MD and an art professor at University of Maryland-Baltimore County (UMBC). He grew up in Albuquerque, New Mexico and then moved to Seaside, California. He received his Bachelors of Arts in Religious Studies from the University of New Mexico and his Master of Fine Arts from the Maryland Institute College of Art (MICA) in Photographic and Electronic Media. He is a queer artist and his work is about "being a man". His work deals with topics such as memorialism, gentrification, public art interaction, and human consumption and usage. Bencomo's work has been exhibited in many art centers around the world.
Bencomo shared his art background with the HCC Times:
Why did you choose to be an artist?
"I was always creative when I was younger and always chose to take art classes as electives, but I landed in the photographic realm and started focusing on those talents in 2008. However, I will say, my current era of working on art in the queer spectrum began in 2016. When I first came out, I told myself that I didn't have to be a queer artist. I could be queer and be an artist without them having to be intertwined. However, I finally gave myself permission in 2016 to make queer artwork. I have been doing that ever since. I honestly do not know if I could separate the two now. It is something so important to me. My queer identity and experience has often been one that has been marginalized, so I choose to make works that humanize the queer experience."
Do your works comment on contemporary social or political issues; how?
"Unfortunately, being queer is inherently political. Making queer work and work that comments on brown bodies and work that comments on body radical acceptance is all political. We live in a world where if your identity isn't ideal, then it isn't as valued as others. If you are a chubby like myself, you may receive flack for having an unhealthy lifestyle. If you are brown, you may be told to go back to where you come from. If you are queer, leaving your house every single day is an act of courage because you never know if you are going to be the next victim of a violent hate crime. I make work to change perspectives. We are all humans, and we all deserve respect and love."
 What's your favorite artwork, and why?
"I find this question difficult to answer because I am mostly influenced by many artists. The artists who have had a lot of influence in my life have been Felix Gonzales-Torres, Keith Haring, Nan Golden, Jess T. Dugan, Laura Aguilar and the list goes on and on. These artists are all queer, and have been open about it, and some of the artists also have Polycystic Ovary Syndrome (POC's) which is another form of intersectional conversation we need to have in this day and age because people haven't listened, and now it seems that some people are starting to."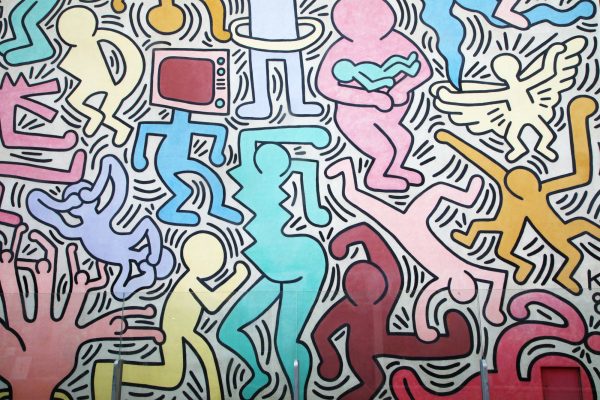 Alanna Rivera, the final member of the panel, is a fine artist and designer based in Arlington, VA. She is of El Salvadoran descent and half-white. Rivera received her Bachelor of Arts in English and Spanish Literature from the University of Virginia in 2013 and her Master of Fine Arts in Community Arts from the Maryland Institute College of Art (MICA) in 2017. Rivera began to paint during the pandemic where she started to make oil paintings or certain moments that she found interesting or beautiful.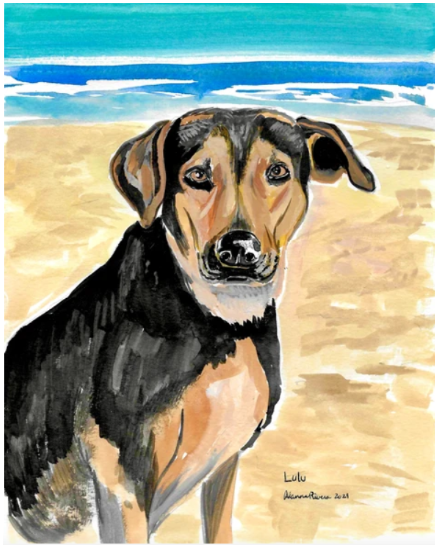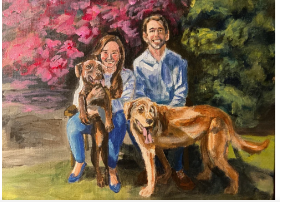 Her artwork during the pandemic focused on healing, and how we get through moments of uncertainty. Rivera's artwork this year focuses on a raw look at the frustration, sadness, fear and curiosity that she was going through during her teenage years (14-19 years). 
Rivera shared her art background with HCC Times:
Why did you choose to be an artist?
"I kept getting burnt out at regular jobs and found creative work the most fulfilling. I would say I didn't choose to be an artist, I would say I am an artist and I finally allowed myself to make art full-time. I believe this is my purpose in life and what I was meant to be doing. The more I tried to fight that feeling, the more miserable I was. I am privileged to be able to have a career as an artist."
Do your works comment on contemporary social or political issues; Why is this important?
"Not all of my works, but a few of them comment on social and political issues, like immigration, racism, and homophobia. To be blunt, the majority of artists practicing full-time are white and are not always using their art to talk about social and political issues. As a bisexual, half Salvadorian and half white artist, I feel I have a unique perspective and sometimes use my art as a platform to speak out on issues of injustice, because my friends, family, and I are directly affected and being silent or neutral is dangerous. 
Of course, not all of my art is political, because then I would be exhausted emotionally. Sometimes I have to remember that my existence as a queer Latinx artist is also political, and whatever I create is in itself, a form of resistance, because I am choosing to pursue a career that is typically reserved for rich white folks."
What's your favorite artwork, and why?
"I don't have a single favorite, but I particularly enjoy artist Yuko Shimizu's (not the Hello Kitty creator) work. Through my work, I'm trying to tell my story, so I often admire illustrators rather than painters, because their abilities to tell a story through their work is so powerful. Yuko Shimizu's work is incredibly detailed and her process combines both the traditional practices of using ink and brush with digital coloring methods, and it's such an elegant combination. She's based in NYC and very well known; she did the promotional poster for comedian Ali Wong, for example."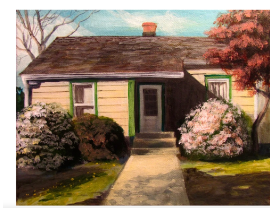 Hispanics here at HCC have managed to come together to beautifully and creatively share their experiences and build a common bond through art.